Olive Oil and Balsamic  Vinegar represent the excellence of the Italian tradition in the world. Their history goes back to centuries ago and they are still accompanying our dishes in everyday life. 
Let's find out how olive oil and balsamic vinegar are produced.
The olives are traditionally collected on net or by hand, selected and then passed to the extraction process. 2 methods for the extraction process are possible: the classic and the modern one. Other techniques include the use of physical and chemical methods; However, quality standards and standards stipulate that an olive oil can only be called virgin if only mechanical methods are used for its production.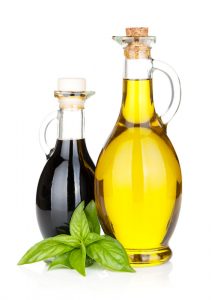 To produce the balsamic vinegar, it is essential the employment of the grape must. According to the experts, balsamic vinegar is a key factor in three factors: the quality of the grape, the composition of the soil where the vine grows and the slow preparation and processing of the must. The preparation of the balsamic vinegar obtained without the addition of aromatic substances of any kind begins with the pressing of grapes in vinification vats; No more than 24 hours after pressing, the must must be sliced, which, after sifting, is then boiled on a slow fire to reduce the volume by about half. Then it cools down and moves into precious wood bottles, untreated with any product of chemical origin.
Both the olive oil & vinegar are important parts which ensure the creation of excellent plates, in particular the olive oil is one of the main components of the Mediterranean diet and it could be eaten raw or cooked. I suggest you to take a look to L-Originale Olio Extravergine di Oliva and the various types of original balsamic vinegar available on their site, such as the Inspiration Line,the Luxurious one and the balsamic pearls. Enjoy them!
L-Originale Traditional Balsamic Vinegar of Modena: www.l-originale.com