Today we propose you a very easy and fast recipe that will bring color and wellness to your table: the crispy sea bass fillet with spicy sauce and Original Balsamic Vinegar of Modena.
Ingredients for 4 people
4 sea bass (400 grams each)
a bowl of already cooked tomato sauce
20 pitted taggiasca olives, cut into rounds
15 basil leaves cut into julienne
1 Tropea onion
10 strands of chives, finely chopped
3 sprigs of freshly chopped oregano
100 gr of breadcrumbs
5 tablespoons of grated Parmesan
2 clarified butter
extra virgin olive oil
Traditional Balsamic Vinegar of Modena D.O.P.
salt to taste
pepper to taste
crushed chilli pepper
Procedure
First of all clean all the sea bass, and finally open them and remove the central spine, the head and the tail. You will obtain two fillets for each sea bass, try to remove as many bones as possible. Meanwhile, in a pan, heat the tomato sauce with the aromatic herbs, the olives and two pinches of chili.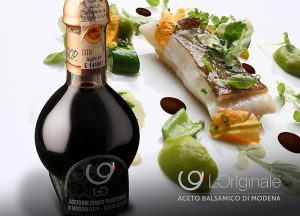 In another pan cook the Tropea onion that you have previously cut into julienne. Add salt and just before turning off the fire, sprinkle with a small amount of Traditional Balsamic Vinegar and let evaporate a little bit; leave the Tropea onion in the sauce.
At this point add salt and pepper to the sea bass fillets; then pass them in the mix of breadcrumbs and grated Parmesan, which you have previously prepared. At this point brown the fillets  in a pan in which you have melted the clarified butter.
The fillets are ready and you can serve them: lay the fillets on the sauce, and place the Tropea onion next to them to add a final touch. We give you a final tip: if you have a little sauce, it will be excellent for seasoning pasta … Enjoy your meal!
Check our Blog for many other tasty recipes!
L-Originale Balsamic Vinegar of Modena: www.l-originale.com