Sherry vinegar? How many kinds of vinegars are there? There is a vast range of vinegars, even more wider than we can immagine. There are vinegars obtained from honey other from cider other again from rice and the list could go on… but, here in Italy, the most common one is the vinegar obtained from wine. Even more sophisticated is Balsamico which is obtained from cooked must.
Vinegar is essential for many preparations and it has become a valuable element to be served, cooked or raw, to confer a peculiar touch to different dishes. Each recipe should use its own one, in other to enhance its flavor. 
Nowadays many countries use vinegar in everyday cooking life and, although the most precious and impeccable one is the Balsamic, a lot of countries, such as Germany, keep on using wine vinegars. This is a type of vinegar obtained from white or red wine, whose main difference, in comparison to Balsamic, can be found, apart from the taste, in the color and in the density.
In the market there are a lot of wine vinegar's brands. The best qualities are aged in wooden barrels for at least two years and have a complex flavor and grade of maturation. Champagne vinegar and Sherry vinegar represent the most famous type of wine from which vinegar can be obtained from.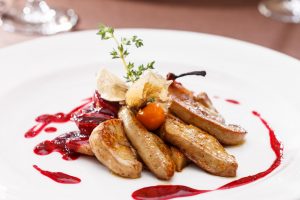 Sherry  vinegar are known by chefs and connoisseurs around the world for their aromas. They are natural products, free of any preservatives or colorants added, obtained starting from wines of Sherry, a renowned creation of Spain. Aged for about five and a half years in oak barrels it presents a golden color tending to amber, an intense scent, with hints of aromatic herbs and a full and strong taste.
Even if it is used to flavor meat or fish, the ideal Sherry vinegar's food matching is with sweets.
Therefore, in terms of flavour, if you are searching for something traditional and exclusive we suggest you the unique and precious Balsamic Vinegar original.
L-Originale Traditional Balsamic Vinegar of Modena: www.l-originale.com