October means New York City Wine & Food Festival 2018! During this month, Traditional Balsamic Vinegar of Modena P.G.I. will be the absolute protagonist of a series of events and collaborations with important American partners; the project's name is "Balsamic Vinegar of Modena, The Original" and it is financed by the European Union.
«October represents a crucial moment in the process of promotion of Balsamic Vinegar in our most important target market» – said Federico Desimoni, president of the P.G.I. Consortium. «During the last weeks, we started a collaboration with CIA the prestigious American culinary Institute. The first step will be the creation of 10 videos about Traditional Balsamic Vinegar of Modena; these videos will tell about its territory, its production method, the role of its geographical indication and how to use it in the kitchen».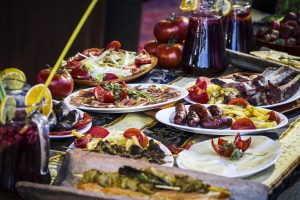 Furthermore, in mid-October the Consortium will be at the New York City Wine & Food Festival 2018; on October 12th  it will be one of the sponsors of the prestigious event NYCWFF Truffle Takeover, presented by Urbani Truffles at the Bowery Hotel. During this occasion Brian Gonia, chef of the Korean michelin-rated restaurant Atoboy NYC, will use the Balsamic Vinegar in its creative dishes.
Moreover, on the very same day, the black gold of Modena will be the protagonist of the Wine and Spirits of New York Trade Tasting of Southern Glazer; the event will be hosted by Wine Spectator and presented by Beverage media.
Finally, on October 13en and 14en , Balsamic Vinegar will be one of the guests of the Grand Tasting organized by ShopRite in collaboration with Culinary Demonstrations. This is definitely the most important event; it is here that the best local restaurants of New-York and the most refined wines and spirits will meet.
L-Originale Balsamic Vinegar of Modena: www.l-originale.com