The compote of Tropea onions with Original Balsamic Vinegar is a recipe which is very easy to prepare; it is based on red Tropea onions whose flavor is enhanced by Balsamic Vinegar and honey. This compote is excellent to accompany different dishes including cheese, meat or fish.
Ingredients
Procedure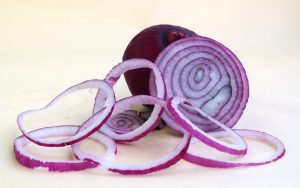 Before starting we recommend you to wear disposable gloves in order to avoid the smell of onion on your hands.
Let's begin by washing and cleaning the onions; after the washing, cut them into slices. Then take a saucepan, add the onions and Original Balsamic Vinegar; then leave to dry for 12 minutes on low heat, stirring frequently.
When the onions are dried, add the honey and the sugar; now let cook for about 45 minutes on a very low flame, continuing to steer often; the compote  must stay soft and not tend to "caramelize".
After 45 minutes check the cooking: pour a teaspoon of Tropea onions compote with Balsamic Vinegar on a slanted plate; the compote is ready if it doesn't tend to drip but stays rather compact and homogeneous; if not, put it back to cook for a while.
Now take care of the sanitization of the jars: pour the Tropea onions compote with Balsamic Vinegar, taking care to leave 2-3 cm of space on the edge; then close the jars well. Once the compost is put into the jars, close and go to boil.
Finally, check that the vacuum has formed correctly: if you do not hear the "click clack" on the cap, it means that the vacuum has been done correctly. To conserve the compote, you must keep it in a cool and dry place and, when it is ready, place it in a small bowl and serve it with some good ripened cheese.
riginale Traditional Balsamic Vinegar of Modena: www.l-originale.com