It's time for another family story! This time, L-Originale had the chance to interview another impassioned producer of Traditional Balsamic Vinegar: Liviano. We had the pleasure to be hosted in the family-run Balsamic Vinegar cellar of the family that told us about its story and let us taste one of their finest Vinegars.
How did you become passionate about Balsamic Vinegar?
Our family story begins with my father, in the late 60s. I remember that he had a barrel full of wine vinegar in the house where we lived at the time. My father worked for several years in a company that installed telephone lines, located in the Spilamberto area, which is well known for its Traditional Balsamic Vinegar. Working there, he was able to bond with some local people and he became curious about the world of Balsamic Vinegar; therefore, he decided to try to produce it himself.
Since then, he started collecting the first barrels; then some other barrels came from the vinegar cellar of a friend who once produced wine but dismissed the activity. Another one one was a Christmas gift to the family…but my father didn't followed a precise method of production. Then me and my sons,who are both graduated in chemistry, got well informed on the exact procedures: our aim was to produce a high-quality product with a concrete future.
How many batteries do you have?
I have 4 batteries.
Do they all contain Traditional Balsamic Vinegar?
Yes, for each battery we use the same method of production of Traditional Balsamic Vinegar.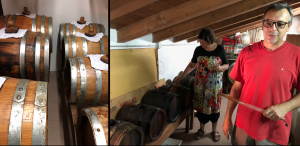 How many barrels do you have now? Are you planning to add other barrels to the battery?
The battery counts now 24 barrels and all of them are full. The oldest Vinegar has been aging for 10 years! Moreover we have the project to further increase the number of the barrels, by adding 2 or 4 to our family battery.
How many liters do you produce each year? And do you usually sell it?
Not that much actually! 5/6 liters every year. And no, we do not sell it: it is consumed by our family members and by our closest ones. We do not give it to anybody, since we are firmly convinced that the product and all the work behind its production must be valued. We are jealous of our Balsamic Vinegar and we carefully select its tasters!
L-Originale got the chance to taste it: we were struck by the current quality of the the most aged vinegars; for one set of barrells, nonetheless requires,, to age for at least other 5 years, as Liviano explained us. This is further evidence that passion and a family story could give birth to an extraordinary product!
L-Originale Traditional Balsamic Vinegar of Modena: www.l-originale.com