A small red bow: every time I see it, a specific memory comes in my mind.
Like a song that reminds you something special: a moment of your life, a movie, a holiday, a friend, a love from past or present. The small red bow is associated for me with an indelible memory that occasionally comes back to bring me back in time.
A small red bow reminds me of my father, who died prematurely 35 years ago at the age of 47. He used to put the red bow in the neck of the bottles of vinegar which he would later give to friends and relatives.
A small red bow made with ribbon (string) that we commonly use for a gift packages. A simple bow that was used only to identify the bottles to give away.
My story
I was around 8 or 12 years old. I don't know if my father put the best vinegar in those bottles to proudly taste it or what satisfied him least to get rid of it. Anyway, the small red bow reminds me of my dad and what he did in our Acetaia.
My dad's gestures are still etched in my mind. I remember when he was decanting, was filling the bottles, was cleaning the attic floor or was removing the rare cobwebs and was placing the cotton cloth on the hole of the barrel.
I remember that he wanted me next to him every time and he never missed a chance to call me when he was going to the attic.
At that time we lived in the centre of Modena and the two batteries of barrels (11 in total) were in the attic of the house. I think that the barrels came from my father's mom's family. Certainly, in the beginning, they were significantly less. I remember that on some occasion my father arrived home with "new" barrels.
I still remember how the smell of fermenting vinegar filled every room of the house. Its fragrance was perceptible in every room, but from the stairs, it gave the maximum result. More you went up the more the smell became intense. A unique and unforgettable perfume, its acidity stuck in my nostrils and intoxicated me.
Sometime later we moved out of town and bought a "new house". I think that for an economic reason we sold the vinegar barrels.
A few years after my father's death, Balsamic Vinegar reappeared in our house when my mother found a new life partner who cultivated the same passion for Traditional Vinegar.
The presence of the barrels and its perfumes have brought part of my father back home. Seeing managing the Acetaia again made me think about when my dad wanted me by his side. I am sure that was he attempt to transmit his passion and the tradition of this special product.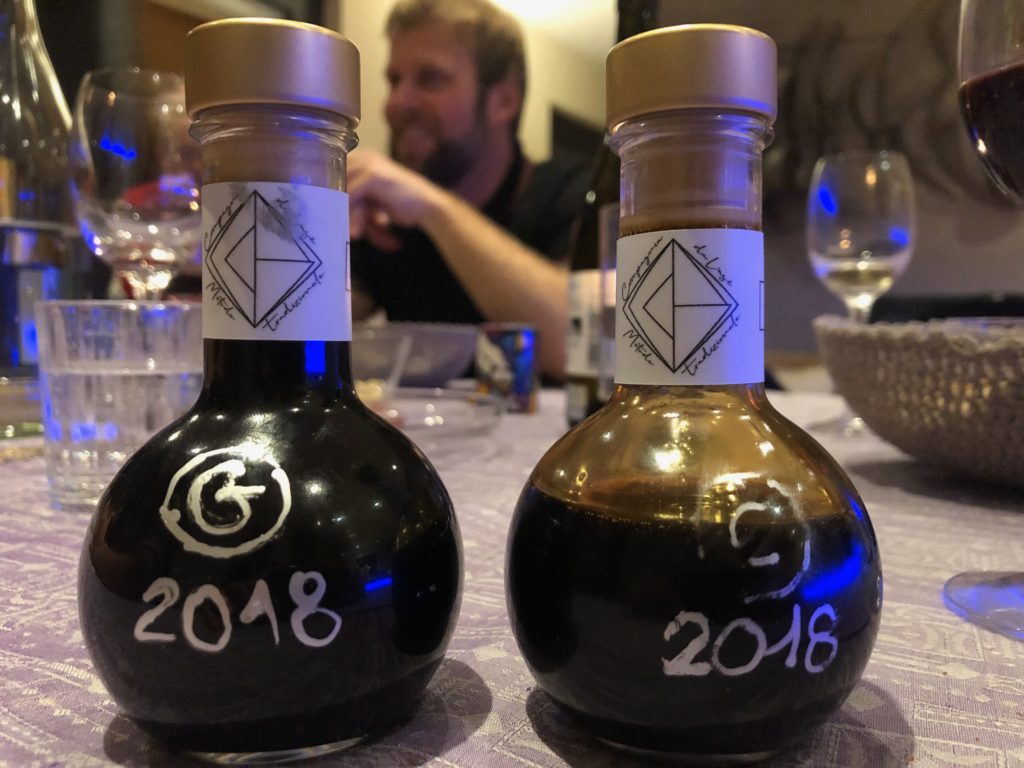 Today
My father has succeeded because today I am here, at the age of 56, talking about the Balsamic Vinegar and sharing my memories. I have involved my daughter in everything I have done in the field of Balsamic Vinegar. I hope of obtaining the same result: to hand down something unique and unrepeatable.
Today I don't use a small red bow.
That was my father's touch.

Marco.