Vinegar cooking: Duck breast with Balsamic Vinegar of Modena is a sophisticated plate which is perfect if you want to surprise your guests. Curious to know this recipe? Here you are the ingredients and the steps 
Ingredients: Duck breast (2 pieces) 1 kg, Golden onions 130 g ,Garlic 2 cloves, Rosemary 3 sprigs, Thyme 4 sprigs, original Balsamic Vinegar IGP 50 g, Honey 20 g, Water or vegetable broth 150 g, Salad misticanza 50 g
Place a pan on the fire and allow it to warm, when the skin of the breasts is warm. Turn 3-4 minutes and let them brown on the other side. At this point, combine the sliced onion cut into cloves and garlic in the shirt. Add thyme, rosemary  and sweeten with balsamic vinegar.
Let it evaporate lightly and also mix water (or if you prefer vegetable stock). Cook the duck breast for about ten minutes (it will have to remain rosy inside) and then transfer it to a chopping board keeping the cooking bottom aside, which you will pour into a colander.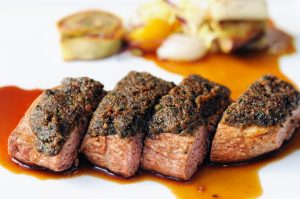 Filter the liquid by crushing the compound with a spoon directly into the same pan where you cooked the duck breast. Also combine honey and cook for 3-4 minutes to get a sauce. Meanwhile slice the duck breast and lay the slices on a bed of misticanza salad. Ultimate the dish with the freshly prepared sauce and serve your balsamic duck breast.
As you can see, this recipe is really easy but effective at the same time. The precious duck meat is classified among black meats and is distinguished by their softness and the pink color they take when cooked.
Their slightly wild taste is perfectly matched with the accompanying salad, characterized by sweet and fragrant notes, thanks to the use of honey, balsamic vinegar and various herbs.
For vinegar cooking use original Balsamic Vinegar  of Modena PGI
L-Originale Traditional Balsamic Vinegar of Modena: www.l-originale.com