It has come to an end the 34th edition of the course for aspiring Balsamic Vinegar tasters, organized by the Consorteria of Modena at Spilamberto. The course constitutes the first step to become master taster of Balsamic Vinegar.
SPILAMBERTO. On Thursday, April 5th the Arci multi-sport club of Spilamberto hosted the last meeting of the 34th edition of the course for aspiranti allievi assaggiatori (aspiring Balsamic Vinegar tasters). The course was addressed to all people interested in becoming professional taster of Modena's black gold: original Balsamic Vinegar.
On Thursday evening the 56 participants in the course of this years received a certificate of participation. Furthermore, a special price was conferred to pupils such as Maria Davoli, Davide Cavallini and Alessandro Calabrese, who distinguished themselves during the course. In addition to the diploma, They received a gold medal for the high-quality results achieved. It is an important recognition for all enthusiasts of this typical product.
The course saw an increase in the number of woman and young people enrolled. Participants are mainly people who are getting closer to the world of Balsamic Vinegar because of their family; for many of them producing Vinegar is a family tradition, sometimes to keep alive the memory of some beloved ones.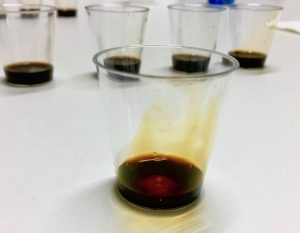 The long journey to become Balsamic Vinegar tasters starts with this annual course organized by the Consorteria of Modena; it consists of fourteen meeting that deal with the main topics connected with traditional Balsamic Vinegar of Modena. The course gives its participants the opportunity to achieve the qualification of aspiring taster. At the end of the course there is no final test, but each participant must write an essay on the topic.
However, this course is only the first step to become master taster; becoming professional taster is a very long journey and reaching the maximum level of expertise requires great commitment and the participation to several further courses. And the journey does not end even  after having acquired the title of master taster. In fact, in order to maintain this prestigious status, the taster must continue to participate to further workshops, to constantly update its skills. Tasters must continuously train their palate!
The entire formation goes from eight to nine years; this is not surprising since among the necessary qualities that a Balsamic Vinegar lover should possess there are calm and patience; in fact, in order to produce a high quality product, Vinegar must age at least twelve years and producers must take great care of the barrels that contain it. Then, if you want an excellent product, you'll have to wait at least twenty five years. After all to use Balsamic Vinegar is an art and , as the proverb say, great things come to those who wait!
L-Originale Balsamic Vinegar of Modena: www.l-originale.com