The sweet & savory watermelon salad is a real explosion of taste, but also of nutrients. In fact, water melon is a fruit rich in lycopene, a nutrient responsible for the red color of fruit; furthermore, at a nutritional level it seems to have a protective action against certain types of tumors. Furthermore, watermelon is an excellent source of vitamin A, C and B6. Finally it contains a lot of water that is fundamental for the correct functioning of our organism. Keep on reading to discover how to use it to prepare a delicious sweet and savory salad!
Ingredients for 2 people:
200 g of cappuccino salad
2 small red onion
1 carrot
1 slice of watermelon
5 large boiled potatoes
10 pitted black olives
200 gr. of flaked almonds
50 gr. of chopped chives
100 g of greek feta cheese
3 teaspoons of extra virgin olive oil
1 pinch of salt
Traditional Balsamic Vinegar of Modena P.D.O. to taste (Check L-ORIGINALE's selection on our website!)
Pepper to taste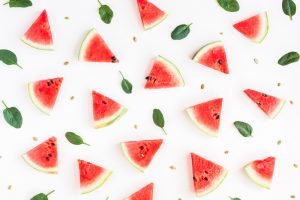 Procedure 
First of all wash the cappuccino salad; after that, peel the carrots and the onion. Then cut the vegetables, the watermelon, the potatoes, the black olives and the feta cheese. At this point, mix all the ingredients in a big bowl.
At this point sprinkle the almonds and the chives all over the salad. Then, season it with extra virgin olive oil, salt and pepper to taste. Finally add the final touch by adding a few drops of traditional Balsamic Vinegar of Modena P.D.O. The Vinegar will instantaneously enhance the taste of the water melon and of the other ingredients! Now divide the salad in two equal portions and put them in two smaller bowls. Enjoy your watermelon salad!
Check our Blog to find the recipes of other tasty salads and be constantly updated on the food world!
L-Originale Balsamic Vinegar of Modena: www.l-originale.com