Strawberries soup and Balsamic Vinegar. What could be better?  Spring is coming! Even though the weather is a little bit worrying, this cannot prevent us doing a delicious recipe with Strawberries, you can easily find them these days in several Supermarkets.
This is not the soup you are used to! The sweetness of strawberries is enhanced by a hint of savoury flavour thanks to the use of Balsamic Vinegar.
Ingredients for 6 people:
2,5 kg of fresh strawberries
125 gr honey
325 gr of water
1/2 teaspoon black pepper
3 teaspoons of original Balsamic Vinegar
crème fraiche, for garnish
Cooking tools:
blender or food processor
sieve
Prearation:
Clean carefully the strawberries, remove the leaves and the top part of it, because it can be a little bit bitter for our recipe. Take your blender or food processor and combine the strawberries with the honey. Blend them until smooth. Strain the strawberry and honey mixture through a sieve. Then stir the mixture in the water and add the black pepper. Let it chill for at least two hours, up to three hours. Distribute the soup into six bowls evenly. Drizzle the Balsamic Vinegar on top of your soup. Garnish it with crème fraiche.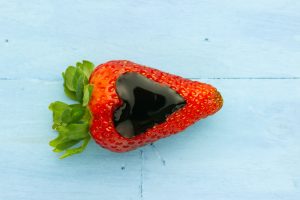 If you are vegan, don't worry! We have adapted this recipe for you too! You only need to substitute the honey with malt! So, 125 gr of malt instead of 125 gr of honey, but if you want to add more or less according to your taste, it's up to you!
In addition, I think you are asking yourself how to substitute crème fraiche? In supermarkets crème fraiche or you can use some soy yogurt!
Strawberry Shopping Tip:
We want to leave you this little tip to choose the best strawberries for this recipe: a strawberry should be sweet and juicy. A rubbery texture or a sickly-sweet strawberry means an overripe or decomposing strawberry.
L-Originale Balsamic Vinegar of Modena: www.l-originale.com