The dessert with Balsamic Vinegar of Modena is a new plate, perfect for the summer season. It is very easy to prepare, but it will conquer your heart and tastes. Ready to find out the recipe? Keep on reading this recipe!
Ingredients for 4 people:
50 ml of fresh milk, 90 gr of sugar, 35 gr of yolks, 215 grams of ricotta cheese, 220 ml of fresh cream, 5 grams of gelatin in sheets, 200 gr of mixed berries, Balsamic Vinegar
Procedure:
Let the ricotta cheese loose its liquids in a napkin for a few hours and in the meantime heat the milk to 85 °. Mix the yolks with half of the sugar and add them to the hot milk. After this, let it cool, add the jelly previously soaked in cold water and add the sifted ricotta. Place the cream with the remaining sugar and then mix it with the cooled ricotta compound. Pour into the cups and let it cool in the fridge. In a pan fry for a few minutes the berries with two tablespoons of Original Balsamic Vinegar Two Wins. Garnish the Bavarian dessert with the berries and finish with a few drops of Balsamic Vinegar.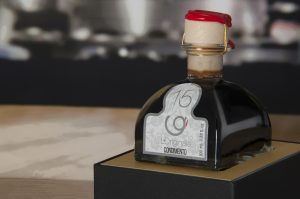 See? This dessert with balsamic vinegar is so easy to prepare but also delicious and it will surprise your guests. The freshness of the ricotta cheese matches perfectly with the aromatic taste of the Balsamic Vinegar, as well as the bitter sweet taste of the berries. Moreover, it's important to choose the right type of Balsamic Vinegar for this recipe: I will suggest you to use or the Tradizionale or the Condimento. Confused about the various types of Original Balsamic Vinegar of Modena? Here you are an article about all the aspects of the types of balsamic vinegar:   ////// Also, take a look to L-Originale types of original Balsamic Vinegar.
See you at the next recipe! 🙂
L-Originale Traditional Balsamic Vinegar of Modena: www.l-originale.com