The beet salad dressed with Traditional Balsamic Vinegar of Modena is an easy and fresh dish which is perfect for the hot season! Keep on reading to discover how to prepare it!
Ingredients
1 red beet
4 ounces of seedless watermelon
1 avocado
3 tablespoons of lemon juice
2 tablespoons olive oil
1 tablespoon of vegetable oil
Salt
Pepper
2 teaspoon of Traditional Balsamic Vinegar of Modena, preferably aged 12 year
Procedure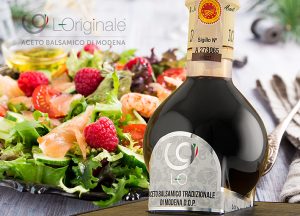 Before starting the preparation of the beet salad, preheat the oven to 360 degrees. Now prepare the ingredients: cut the watermelon and the avocado into little cubes.
After that, coat the beet with vegetable oil and wrap it in a heavy aluminum foil. Now, bake it for about 40-45 minutes, until it is tender. After that, leave it to cool slightly and peel off the skin while it is still warm. Then, chill the beet in the refrigerator until cold; then remove it from the fridge and cut it into small cubes.
Subsequently, put in a bowl the beet, the avocado and the the watermelon. Then, season it with three tablespoons of lemon juice, olive oil, salt, and pepper, and then toss together. Conclude the dish by drizzling on it the Traditional Balsamic Vinegar of Modena PGI. The Vinegar will instantaneously enhance all the flavors!