The Pugliese salad with Original Balsamic Vinegar is an extremely delicious salad and it's the perfect recipe for the summer period! This dish is very light and super fresh and and you could easily bring it at work. The main ingredients are exquisite dried tomatoes, flakes of Parmesan, sweet almonds and tasty taralli: the result is a truly inviting salad, success guaranteed!
Ingredients
1 cup of Iceberg lettuce
120 gr of dried tomatoes
60 grams of Parmesan cheese
20  grams of leaf almonds
6 taralli
Extravirgin olive oil
 Salt
 Original Balsamic vinegar of Modena P.G.I.
Procedure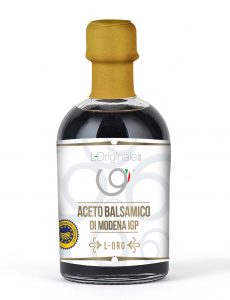 Let's start preparing all the ingredients! First cut the Parmesan into flakes; then wash and clean the salad; now cut the tomatoes into little dices and crumble the taralli coarsely.
Now put all the ingredients in a bowl and mix them. Then add a little bit of salt and the extra virgin olive oil and mix again.
Finally season the salad with traditional Balsamic Vinegar of Modena P.G.I. Now you can bring your  Pugliese salad to the table and enjoy its exquisite taste.
If you want to add a special touch you can also use the Traditional Balsamic Vinegar of Modena aged minimum 12 or 25 years.
As always we give you an appointment with a new and delicious balsamic recipe for the next Friday.
L-Originale Traditional Balsamic Vinegar of Modena: www.l-originale.com