The Consortiums agreement: no more fake. Product imitations affect many products and sectors. The Balsamic Vinegar of Modena is no exception within the market of fake products. Fake Balsamic has increased recently, especially PDO and PGI products.
Every month the Consortium's safeguarding activities for the Black Gold are considerable. We are talking about almost a thousand checks and over 6000 advertisements analyzed referring to over 2 thousand sellers.
Also, they have checked 45 e-commerce platforms all over the world, almost 2ooo certified product labels and more than 1000 processed products.
Finally, 15 ex officio procedures were activated at EU level through the ICQRF (Central Inspectorate of Quality and Fraud Repression). We are talking about 5 relating to the UK, 3 to Denmark and Sweden, 2 to Italy and 2 between Germany and France.
The Consortiums agreement: no more fake.
The Consortium for the Protection of Traditional Balsamic Vinegar of Modena PDO and the Consortium for the Protection of Balsamic Vinegar of Modena PGI have a specifical role. They are the guardians of the value of authenticity of Balsamic.
They are in a constant renewal of supervisory strategies and an enlargement of their operational scope to ensure proper supervision.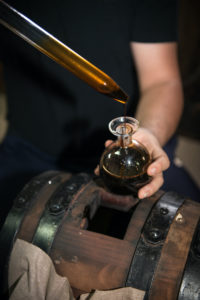 An initiative called "collective monitoring" started. It is a project supported by Mipaaf (Ministry of Agricultural, Food and Forestry Policies) which involves some of the most important Italian Consortia with the aim of joint monitoring activities in various European markets.
Balsamic Vinegar Consortia have decided to take a further step in this direction by signing and agreement. The agreement defines a new supervisory agent that will do the supervisory activity for both Consortia.
Consortia's president Mariangela Grosoli (PGI) and Enrico Corsini (PDO) will present an annual program to the ICQRF in which they share the supervisory objectives, strategies and operational criteria.
Mariangela Grosoli: "The Balsamic Vinegar sector represents an important voice for the local economy with a turnover of around one billion euros. Even though we are experiencing a difficult moment due to the Covid19, we want to continue looking forward with optimism. We also want to continue working to protect more Balsamic and consumers. Balsamic is a symbolic product of our territory."
No more fake
We hope that with this agreement the counterfeiting, imitation and evocation of the Black Gold of Modena can be limited.
With the pact between Balsamic Vinegar Consortia, we are aiming for stopping the fakes.
Greetings from Modena.