Are you on a vegan diet and you don't now what to cook for lunch? L-O is always here to give you some inspiration! The recipe of today is the vegan salad with baby green peas and Traditional Balsamic Vinegar P.G.I.! Keep on reading to discover hot prepare it!
Ingredients
6 round radishes
1 white onion
1 long zucchini
2 tablespoons of toasted sesame seeds;
1/2 lemon (the juice)
100g of baby snow peas (eating peas)
50g of rocket
50g of shelled peas
extra virgin olive oil
lime
salt to taste
pepper to taste
2cm of fresh ginger
Traditional Balsamic Vinegar of Modena P.G.I.
Procedure
Prepare the citronette in advance: the perfumes become more intense if you let it rest for a while! Let's start by finely grating the ginger; then, add lime, pepper, salt and the juice of the squeezed lime. Mix with a whisk, then emulsify with flush oil.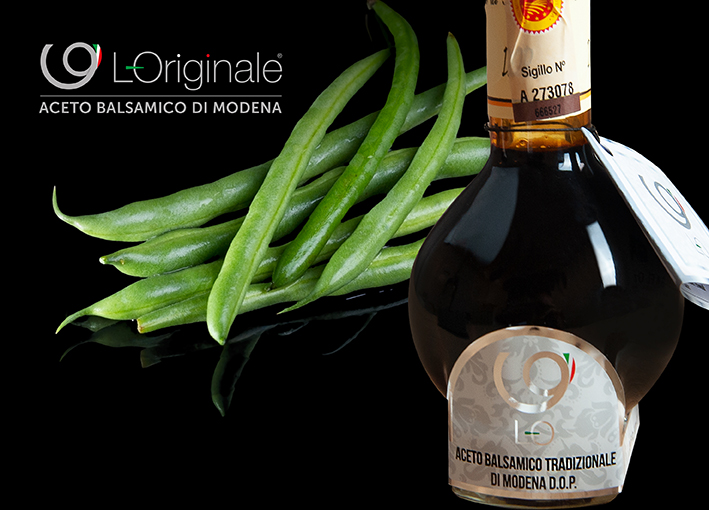 At this point cook the baby snow peas and the normal peas in salted boiling water, for two minutes; then drain and pass them immediately in water and ice. Then wash and dry the rocket, the radishes and chilli pepper.
In a large bowl pour the rocket, radishes, chopped onion and sliced zucchini; then season with salt and pepper to taste and a thread of citronette. At this point divide the salad into two plates. Add the peas,the baby snow peas and the chopped chillies. Season with Original Balsamic Vinegar of Modena, sprinkle with sesame seeds and serve it straight away! Easy-peasy!
Check our Blog to discover many other recipes which could enrich your vegan diet! We look forward to give you some inspiration!
L-Originale Balsamic Vinegar of Modena: www.l-originale.com