Vegetable pearls with basil fragrance is the perfect garnish to accompany your plates. It is very easy to make and also it can be matched with every second dish, as the original balsamic vinegar gives to the vegetable that unique touch and taste that every plate requires. Keep on reading for the whole recipe!
Ingredients for four persons:
3 zucchini, 3 carrots, 3 yellow pasta potatoes, 7-8 basil leaves, 3 tablespoons balsamic vinegar, 6 tablespoons of Parmesan cheese, Salt to taste.
Preparation
Wash the zucchini and spit them; peel the carrots and potatoes. With the help of a round dredger made from every vegetable of the same measuring balls. Place them in a basket and boil them with basil in water. Adjust with salt. In the meantime, sprinkle with little parmesan a small non-stick frying pan and blend it with medium fire to create a round cheese layer; then remove the edges with a spatula or a smooth knife and drop the wafer on the floor, bending it straight on a cup to turn it into shape. Repeat the operation three times and keep aside. Serve the vegetable pearls in a cup of parmesan and garnish with the Balsamic Vinegar. You can vary the aroma of vegetables by replacing the basil with 7-8 mint leaves.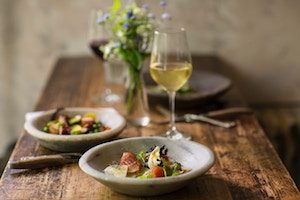 As you can see, this recipe "vegetable pearls with basil fragrance" is really versatile and can match perfectly with every kind of second plate. Indeed, the taste of the Parmesan cheese gives that salty taste that, combined to the Balsamic Vinegar of Modena original, exalts all the qualities of the vegetables. In choosing the right balsamic vinegar, I suggest you to take a look at L-Originale website: http://www.l-originale.com/en and if you want to be updated to our news subscribe at our newsletter!
L-Originale Traditional Balsamic Vinegar of Modena: www.l-originale.com