Vinegar use: Balsamic Vinegar of Modena can be used for every kind of dishes and today we will learn how to combine Balsamic Vinegar Extra Vecchio with some fruits and vegetables put together! It could sound strange, but I assure that it is delicious!
Let's learn how to prepare some crêpes with apples, onions and the fantastic flavor of Balsamic Vinegar original!
Ingredients for 4 people:
600 gr. onion, 2 pippin apples, 50 gr. butter, Parmesan, 1 glass Riesling Oltrepo Pavese, 1 glass béchamel, 2 spoons Balsamic Vinegar Extra Vecchio, 2 spoons sour cream, salt, pepper, 8 crêpes traditionally prepared
Procedure:
To start off, you should finely cut onions and in a pan make them become light brown with butter for about 30 minutes. In order not to fry onions, pour a little at time Riesling Oltrepo Pavese. Then, you should grate one apple and add them to the pan. Mix all ingredients and flavor with salt and pepper as you like. When the compound has become creamy, you can remove the pan from heat and add one spoon of Balsamic Vinegar Extra Vecchio and mix it again.
Now, it's time to prepare crêpes! Place on the table the 8 crepes and lay down on them the béchamel cream, dust with Parmesan cheese and add on the top the apple-onion compound. You need now to blend crepes in a wallet form and prepare the oven dish. as a matter of fact, you should butter an oven dish and place crepes on it, without overlap them. It a good idea to put some béchamel cream on them in order to protect them from the heat. Now, crêpes are ready to be baked for 10 minutes at 180 degrees.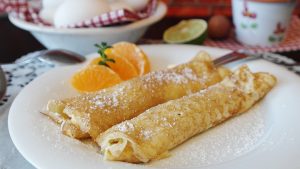 Meanwhile, take the other apple and slice it very thinly. Then, take a large pan and place inside these slices and sprinkle them with Riesling leaving to evaporate over high heat and add sour cream.
At the end, when crêpes have become golden, remove them from oven and place them on the plate. Guarnish with hot apples slices and some sour cream obtained from the cooking in the pan the top of crêpes and add some drops of original Traditional Balsamic Vinegar of Modena Extra Vecchio.
It is highly recommended to serve this plate when it is still hot and combine it with a glass of Riesling Oltrepo Pavese.
Another astonishing vinegar use.
L-Originale Traditional Balsamic Vinegar of Modena: www.l-originale.com