New record for the balsamic vinegar IGP has been established: in 2017 97.5 million liters were sold. This is the great news that was showed during the "Rapporto Qualivita Ismea 2017" presented in Rome In the presence of the Minister of Agricultural, Food and Forestry Policies Maurizio Martina. Want to learn more? Keep on reading!
In the 2017 Report it is interesting to observe the comparison of the last decade, in which the number of Denominations has grown by 40% in absolute terms and by 70% in value. We have also an increase of 143% of Fly Exports on a ten-year basis and speaking of exports, one can not but make direct reference to what is the most exported product of the Made in Italy agro-food industry, the Balsamic Vinegar of Modena PGI , which holds a record for the 92% of the production directed cross-border, about half towards non-EU countries. In total, in fact, only 97.5 million liters were calculated in 2017 , or a + 3% compared to 2016 and a + 5% compared to 2015. The consumer value was about 970 million euro and like all other values has undergone an increase compared to the previous year. Positive dynamics therefore for the precious condiment, mainly due to the fact that they are manifested in a period in which the economic conjuncture is anything but positive.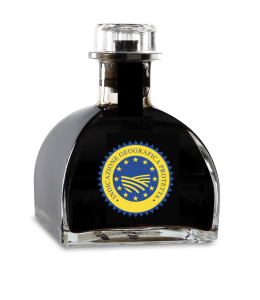 This new record for the balsamic vinegar IGP is important also in terms of product knowledge, it was certainly the important baggage of initiatives organized by the Consortium to bring the consumer closer to the culture of this typical excellence of the territory. Starting from the USA project started in April with a duration of three years up to 2020 which involves culinary institutions, chefs, bloggers, journalists and influencers from overseas in events and activities to be carried out on the web and in particular on social networks.
If you are interest in the USA project carried out by the Consortium here is the link :http://usebalsamicvinegar.com/balsamic-vinegar-original-project/
L-Originale Balsamic Vinegar of Modena: www.l-originale.com