Do you want to prepare an easy appetizers for your friends? An easy to make gourmet dinner? Our toasts with sauted prawn and original Balsamic Vinegar IGP are the solution for you! Prawns, thanks to their delicate flavour, are one of the main ingredients for shellfish dishes.
We are  proposing you this "wedding" between prawns and balsamic vinegar that's going to make you say "WONDERFUL!!!". A pure explosion of tastes, to which nobody could resist!
Enjoy!
Ingredients for 12 pastries: white bread 3 slices (that you will cut in 4 squares), prawns 600g., original balsamic vinegar IGP 1 small glass, pink pepper, EVO oil, salt to taste.
Preparation:
First thing to do is to rinse the prawn with abundant cold water, cut the head, remove the entrails with a tweezer and remove the shell.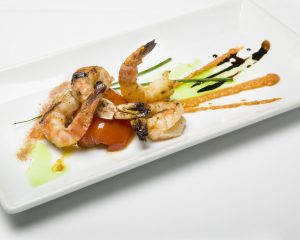 Now you are ready to cook your prawns. In a pan, warm a drizzle of oil and put the prawns in it. Later add the pink pepper and keep sauting for at least 5 minutes.
After 5 minutes, add the Balsamic Vinegar of Modena and cook for 10 minutes on a high flame, until you see the vinegar thickening. Basically, you have to obtain a creamy consistence.
Meanwhile grab you white bread slices and cut them to get 4 mini squares, that you will use for the plating. Toast them.
Now you can plate, and eat, your toasts with sauted prawn and original Balsamic Vinegar IGP. Pick a piece of mini-toast and place a spoon of your sauted balsamic vinegar prawns!
L-Originale Balsamic Vinegar of Modena: www.l-originale.com