Muffins with blueberries and Traditional Balsamic Vinegar. This brand new recipe is for those of you with a sweet tooth! Your mouth is already watering, right? Keep on reading to find out all the details to make this delicious dessert!
——MORE——
Muffins with blueberries and Traditional Balsamic Vinegar is perfect as a dessert, but as a festive snack to share with friends and family as well.The answer is always a "YES" when it comes to muffins. Try the recipe and you'll see how you'll agree!
Ingredients:
2 eggs, 100 g butter, 180 g sugar, 300 g flour, 1/2 bag of baking powder, 1/2 teaspoon baking soda, A pinch of salt, 1 teaspoon Traditional Balsamic Vinegar of Modena, 125 ml milk, 125 ml white yogurt, 250 g fresh blueberries
For the decoration
200 ml fresh cream, 50 g icing sugar, Blueberries.
Execution
The first step is to turn on the oven at 180°. Let the butter soften at a room temperature and beat it together with suga (maybe with the help of a food processor), until the compound becomes creamy. Break the eggs in a bowl and combine them with the compound, one at a time and very slowly. At this point, add salt, baking soda, Traditional Balsamic Vinegar of Modena, then yogurt and drizzle milk.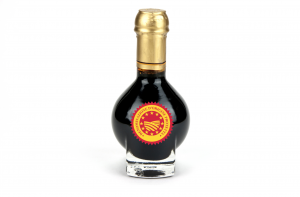 Keep on beating until it all gets swollen and homogeneous. Mix everything and sift the flour, baking powder, add them to the compound until everything results creamy with no clumps. The last thing you have to do now is add blueberries.
At this stage, pour the compound in paper cups inside the muffin moulds. Top with some blueberries and put them in the pre-heated oven at 180°, for more or less 20-25 minutes.
Once baked, turn off the oven and let the muffins rest (in the open oven) for 5 minutes. Thereafter take them out and let them cool down completely. Meanwhile whip the cream with sugar and pour the cream in a pastry bag. Very last step: decorate your muffins with some blueberries on the whipped cream and that's it! Now you can enjoy your tasty muffins with blueberries and Traditional Balsamic Vinegar... Buon appetito!
L-Originale Balsamic Vinegar of Modena: www.l-originale.com