The Summer Fancy Food was held in New York last month, from the 25th to the 27th of June, and it consacreted the success of the balsamic vinegar of Modena.
It provoked an extraordinary interest among operators and overseas enthusiasts of black gold, supported by the launch of the project "BALSAMIC VINEGAR OF MODENA, THE ORIGINAL – Protected Geographical Indication from Europe", which will see in the next three years Consorzio Tutela Balsamic Vinegar of Modena IGP engaged in the promotion of such product right in the USA.
For three days tastings and product illustrations featured the activities of the consortium wew the main activities but, however, they were not the only promotional initiatives launched during the Summer Fancy Food for the balsamic vinegar: among these, the official presentation of the partnership with ILIF on the occasion of the 100% Italian Experience held at Midtown Terrace on Sunday, June 25th, in which the Original Balsamic Vinegar of Modena IGP has played a leading role and the creation of a service to be broadcast on the Facebook channels of ILIF – I Love Italian Food, the ambassador of Italian food in the world – at the Consortium in the afternoon of 26th of June, together with the chef Michele Mazza, President of AICNY – Italian Chef New York Association.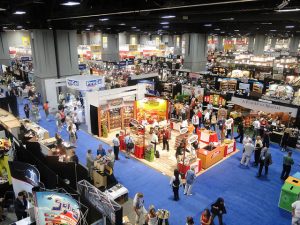 The space of The Extraordinary Italian Taste has become the privileged place for meetings between industry professionals, experts and foodies, a place for deepening commercial relations and knowledge of products devoted to a market of fundamental importance also for the Original Balsamic Vinegar of Modena IGP.
Three days in which the Italian excellence Dop and Igp has been the protagonist in and out of the show and reaffirmed the importance of the US market for the Original Balsamic Vinegar of Modena IGP, where about 28% of total production is exported, equivalent to approximately 26 million liters.
L-Originale Traditional Balsamic Vinegar of Modena: www.l-originale.com