The Balsamic Vinegar held in the Military Academy of Modena, will become traditional in 2029 after that a series of batteries were placed in the 2014 in a tower of the Palazzo Ducale.
Those barrels of precious nectar of grapes, belonging to the Consorteria of Traditional Balsamic Vinegar, but also to chef Massimo Bottura and to the business family Cremonini were at the center of an agreement signed between the Commander of the Military Academy Salvatore Camporeale and the Grand Master of the Consorteria of Spilamberto Maurizio Fini. The 4 batteries of Acetaia ducale are an important historical detail of the 17th century building as the acetals survived until 1796, when Napoleon made them dismantle and the King Vittorio Emanuele II, in love with the black gold of Modena, brought 4 barrels in Piemonte.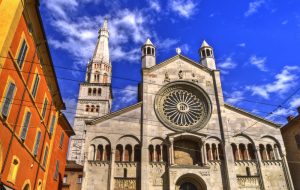 The salon that keeps the batteries is called "quota pipistrello (bat)" because they are located in the attic of the left tower of Palazzo Ducale, reachable after having climbed up to 151 steps. The area was named in this way because until the 1950's this was the penalty cell where the cadets were forced to stay if they made any mistakes. At the arrival, there is a series of rooftop salons and this room with a large old door. This access has a peculiarity: it closes only from inside, because it represented a last chance of defense if the palace were attacked. Entering the room is struck by a very good smell of vinegar that is maturing to become truly traditional.
Now we have to wait unit 2029, because in order to be a traditional balsamic vinegar, it must mature for at least 12 years. In the meantime, however, the original balsamic vinegar of the Military Academy of Modena has already reached the first tastes with 97.5 points, a good score for the maturation step of the product.
L-Originale Traditional Balsamic Vinegar of Modena: www.l-originale.com