Often our busy days don't leave enough time to dedicate to the preparation of a tasty meal. The carpaccio with Balsamic Vinegar, olives and ricotta it represents a perfect option for a second course that you will enjoy.
Today we propose you a recipe from our dear friend Maria Cucina. If you click on this link you will direct to the YouTube video. Open YouTube
The carpaccio with Balsamic Vinegar, olives and ricotta is a simple and fast recipe to prepare. You just need five minutes.
This is the perfect meal for people that have not too much time for cooking. Different flavours that end in a special culinary combination.
Ingredients for 4 people:
Gioielli di Balsamico
400 g of beef carpaccio
50 g of ricotta
12 olives
pepper and salt
Extra Virgin Olive oil
Preparation:
Start by putting the slices of beef on a plate. Then add some Extra Virgin Olive oil, salt and pepper on the meat.
After that grate some ricotta on the top of the carpaccio and collocate the olives, you can choose the type of olives that you like the most.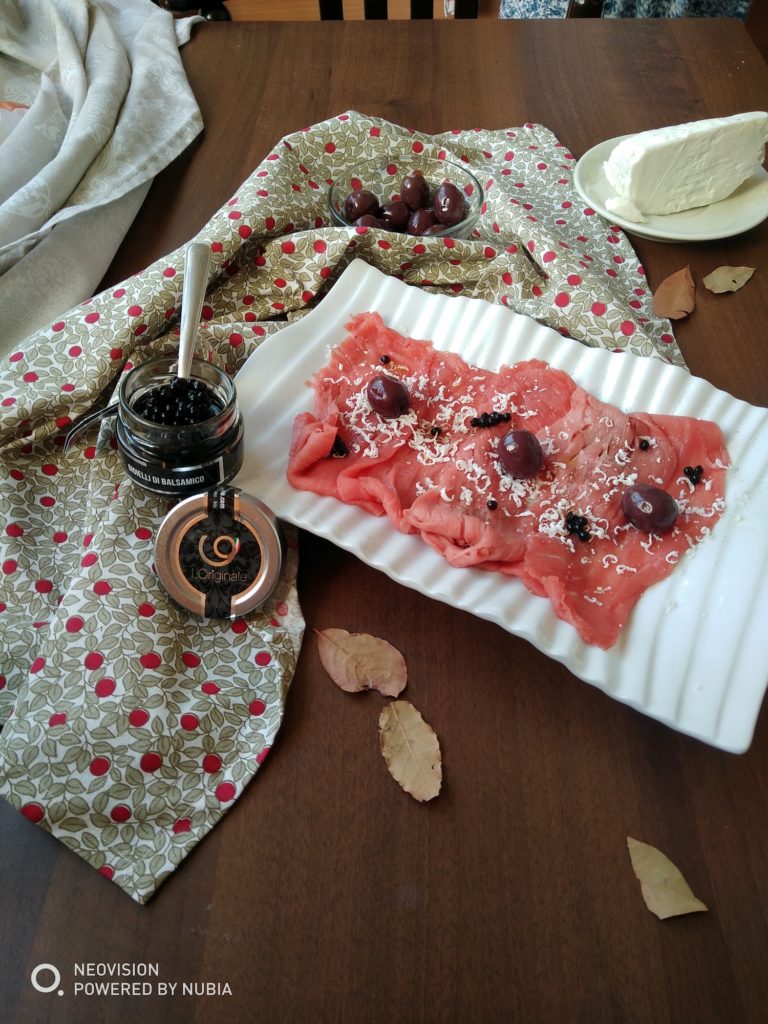 In conclusion, decorate the plate with the Gioielli di Balsamico. These particular ingredients will transform your meal with a unique taste.
Carpaccio with Balsamic Vinegar and olives is ready to be served. Enjoy this delicacy!
IMPORTANT: remember to use Traditional Balsamic Vinegar DOP only raw, in reverse the Balsamic Vinegar IGP can be used in a pan during the cooking of food.
If you are curious about more information on the Modena Balsamic Vinegar we suggest you staying a litter bit longer on our Blog. You will find different recipes, news and curiosities about this special Italian product.
Hope to see you soon with a new video from Maria Cucina's channel.
Greetings from Modena.