Crisps and Balsamic Vinegar: an unusual snack.
In Italy, we say "all flavours plus one". It is actually possible to find this particular combination of Salt and Balsamic on the market.
We are talking about crunchy crisps seasoned with our beloved Balsamic Vinegar. Nothing new for the crisps themselves. What is new in the unusual seasoning with which they are accompanied: Balsamic Vinegar!
A variety of companies have been offering the combination of potato crisps and Balsamic Vinegar for several years.
The strong flavour of the vinegar blends with the salty flavour of the crisps, making them special and tasty!
Homemade chips and Balsamic Vinegar
For those who love trying new recipes, trying this food combination will not afraid them. It is an easy, fast and low-cost recipe but it offers the possibility to propose a different kind of snack to your guests.
Preparation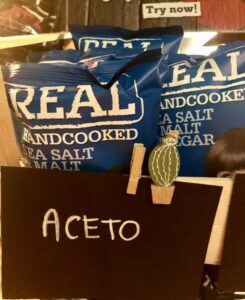 3 big potatoes
2 spoons of oil
salt
Start by peeling the potatoes and cutting them into strips or slices, depending on your preference.
At this point, place the potatoes in a container with hot water for about 20 minutes.
In the meantime, turn on the oven in a fan mode at 200 degrees and place the baking paper in a tray.
After 20 minutes, place the boiled potatoes on the baking sheet. Add some oil and salt.
Mix everything using your hands and make sure that the crisps are not overlapping in order to guarantee the most tasty result.
Let the crisps cook for about 15 minutes and afterwards sprinkle it with the Balsamic Vinegar of Modena.
The more Vinegar you use, the stronger the flavour of your crisps will be. We advise you to add as much Balsamic as you like, according to your preferences or your guests.
Put the baking sheet back in the oven and cook until the potatoes are crispy and have taken on intense golden colour.
Once you have obtained the desired consistency, remove the potatoes from the oven and add some salt.
Here we are, a Modenese snack ready to be served!
Greetings from Modena.