Fondo Toschina – Acetaia Story. Today Mauro tells us the story of the Acetaia. Mauro Clò is the owner of the Acetaia but he also is lover, admirer and producer of ABTM.
The story
My name is Mauro Clò and the time that I came into contact with a vinegar barrel was in 1960 when my mother Vezzani Argentina inherited a wooden barrel (with a capacity of about fifteen litres, from the first years of the century) from a relative. Inside the barrel, there was a dark liquid that they called Vinegar.
At that time I was attracted to many other things: studying, playing basketball and meeting friends. I remember that my mother began to take an interest in this product to the point that, after a few months, a gentleman called Miglioli came to our house in Modena. He was an expert. In a short time in the attic of the house, there were other four barrels of different sizes.
My mother started a battery of vinegar. This vinegar was called Balsamic Vinegar. She was very proud of it. Neither my father or I were interested in the Balsamic. Only my mother was taking care of the battery. She used to go often to the attic and one time per year, she did the Vinegar reinforcements with the expert Miglioli.
The consumption of vinegar was exclusively familiar except for one occasion: my wedding in 1972. The wedding favours consisted of small bottles of Balsamic Vinegar, very welcome by all the participants.
Being my wife from Carpi and working both in Carpi, we decided to settle in that city. The battery was even more forgotten by me except the times that my parents came to visit us. They used to give us a bottle of Balsamic Vinegar every time.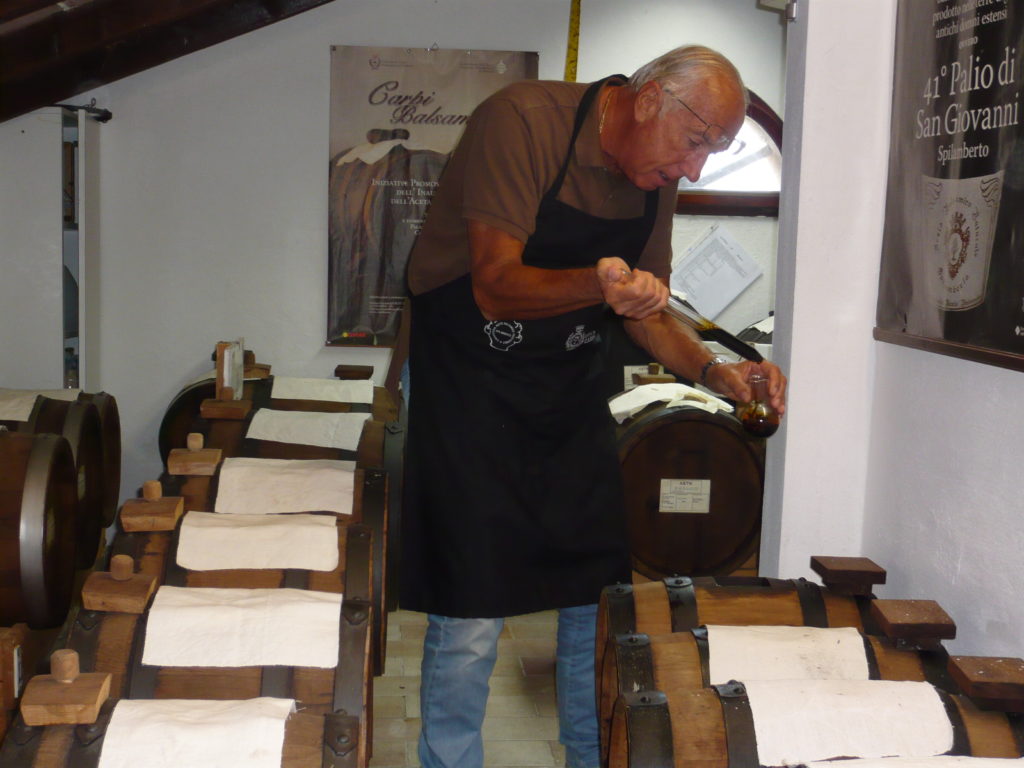 Fondo Toschina – Acetaia Story
The years passed normally until suddenly my mother passed away in 1992 for a car accident.
After a first and long period of loss of both my father and I, we remembered the battery in the attic. One day I to the attic went up the stairs, I opened the door and I introduced myself to the battery. I sat down and stayed a long time thinking about how much love and patient my mother gave to it and how she tried to carry on this ritual and tradition. The tradition was passing on to me and I could have passed to my daughter too.
Every time that I went back to Modena I used to go to my house and check the battery and do the reinforcements (I did it for two consecutive years). I didn't how to do it so Mr Miglioli did them. This thing didn't give to me any satisfaction because I felt that it should have been me to take care of the battery and carry on this tradition that my mother wanted very strongly.
At that time the Traditional Balsamic Vinegar Consortium of Spilamberto brought neophytes closer by organizing some tasting sessions in Carpi. I signed up and participated and I was very interested in starting to learn the first rudiments.
In the meantime, I brought and added a 10-litre barrel to the battery making it become a six-barrels battery. I also covered the 15-litre barrel that my mother had inherited because unfortunately it no longer had capacity. From that moment the battery was called as my mother name: ARGENTINA.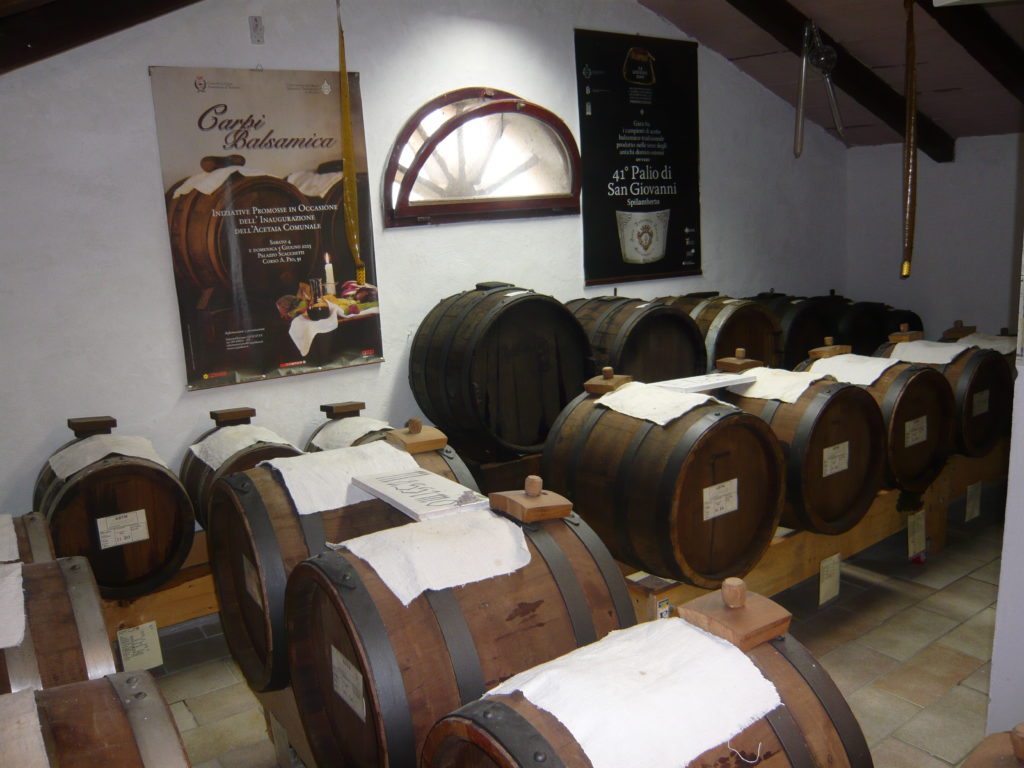 Fondo Toschina – Acetaia Story
In 1999 I participate at the course of "Starting and Conducing Acetaia" in Spilamberto where I realized that unlike what Signor Miglioli did, by adding the vinegar wine to the cooked must and quickly obtaining the acetified must, the cook must acetified naturally with a process of alcoholic fermentation first and then with acetic oxidation (more complex and long process but without adding wine vinegar).
In May of that year, I was awarded by the Consortium with the qualification of Aspirant Taster Student. I also bought a 180-litre barrique making it become a "mother barrel". It was perfect for ageing the acetified must. In the same year, I bought a second battery of six barrels, always located in the attic of my Modenese house, called, this time, MAURO. It was started with real high-grade acetified cooked must and produced by me and I continued reinforcing the first battery too with the same product.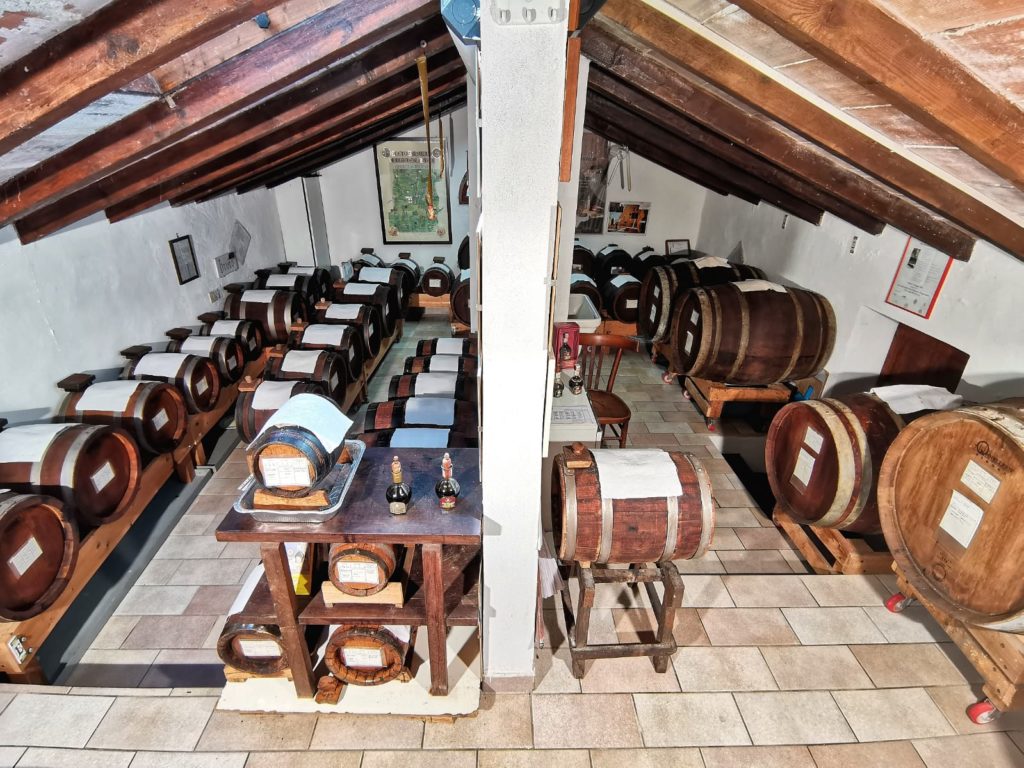 Even my daughter, married in 1996, wanted to use as wedding favours the bottles of Traditional Balsamic Vinegar. After having lived in Carpi for three years, she decided to leave the city with her husband and in 2000 they moved to a big house called FONDO TOSCHINA located in the countryside between Carpi and Cortile. In May of the same year, I was promoted to Taste Student.
Fondo Toschina
In Fondo Toschina I obtained a perfect space in the attic to contain a series of batteries, away from the industrial pollution. I equipped it with everything that would be needed to be able to certify a future vinegar producer to the Producer Consortium. I retired in the same year from my job as Physical Education teacher at the Fanti High School in Carpi and I began to dedicate myself to the new vinegar factory by moving the batteries and the barrique from Modena to the attic of Fondo Toschina.
While I continued to buy batteries, even dates ones, and attend to the Consortium. In November 2003 I became a Vinegar Taster after passing the exam and in November 2006 I became a Master Taster of Traditional Balsamic Vinegar after passing the exam too. In March 2007, after an inspection of the Local Health Authority, I enrolled the Acetaia Fondo Toschina in the Producers Consortium for cooking must and ageing of Balsamic Vinegar.
www.acetaiafondotoschina.jimdo.com
In the meantime, I filled the attic of sixty barrels, ten batteries of six barrels (each of them made of different woods) and five barrique (all ABTM PDO certified). In 2008, the chamber of Commerce of Modena organized a course for ABTM Taste Expert in which I participated. I passed it and I am still part of the commission of five experts who judge and qualify the product to be bottled as Traditional Balsamic Vinegar of Modena PDO in the Giugiaro Bottle.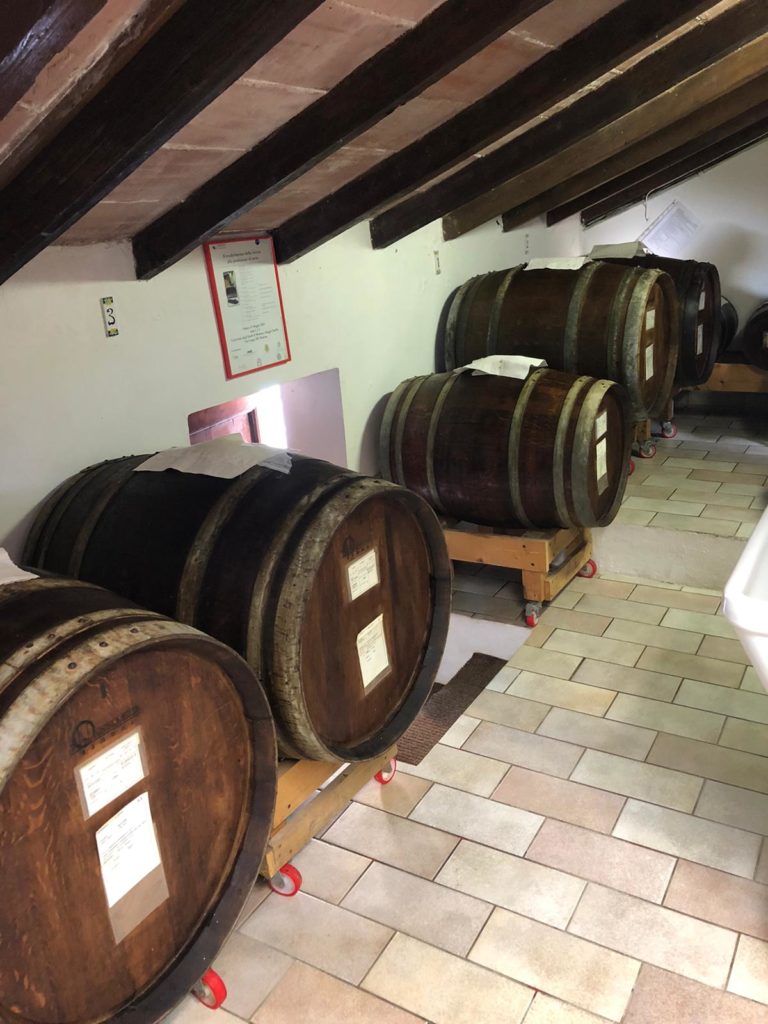 Fondo Toschina Acetaia
The vinegar factory can always be visited by calling us and has always been opened to the public since the "Open Acetaie" event was born (on the last Sunday of September each year).
I have participated at the Palio of San Giovanni every year. It is a competition between the best Balsamic Vinegar organized by the Consorteria of Spilamberto. In June 2019 my Traditional Extra-Old Balsamic Vinegar obtained the qualification of Excellent with 298 points among the 1516 participants.
I think that if my mother could look at me now, can be happy with the way I went along with her Balsamic Vinegar: every reinforcement is a declaration of love. An alliance pact between man and nature, past and present.
Traditional Balsamic Vinegar is something that grows and lives together with us and with the generation to come.
We thank Mauro for telling us the story of his Acetaia.
It was a great pleasure to meet him and spend some time together.
Greetings from Modena.