Grilled zucchini rolls with Balsamic are tasty, rich of natural properties and easy to prepare. This recipe will allow you to propose to your guests a good appetizer or main course.
It is a fresh and nutritious dish where the final touch of Traditional Balsamic Vinegar of Modena will add a unique taste.
Today we want to share with you a simple and tasty version of this recipe. The ingredient can easily vary depending on what you like the most.
Ingredients for 4 people:
four medium-sized zucchini
200 g of cherry tomatoes
200 g of spreadable cheese (for example Philadelphia or mozzarella)
100 g of rocket salad
pine nuts or cashews
Extra Virgin Olive Oil
salt
Traditional Balsamic Vinegar of Modena PDO or Balsamic Vinegar of Modena PGI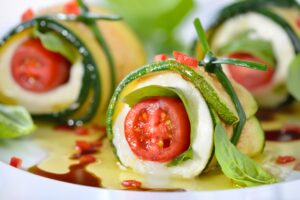 Preparation
Carefully wash the zucchini and remove the ends of them. After that, cut the zucchini into slices (about 0.5 cm thick) and grill them in a non-stick pan for about 5 minutes per side.
Once cooked, place them on a plate and add a tiny drizzle of oil plus a pinch of salt.
In the meantime, toast the pine nuts or cashews and grind smaller pieces in a mortar.
Cut tomatoes and mozzarella into small pieces. Place them, together with the rocket salad and pine nuts on the top of the zucchini slices. At this point, roll them up everything together.
If you want to use spreadable cheese, we advise you to spread first the cheese on the top of the zucchini and then place the other ingredients.
Grilled zucchini rolls with Balsamic are ready to be served.
Place them on the plate and add a drizzle of oil and the Balsamic Vinegar. The unique taste of Traditional Balsamic PDO will make the dish unforgettable. It is also possible to use Balsamic PGI if you prefer.
We always remind you that Traditional Balsamic must be used raw as a final seasoning of the dish. Balsamic Vinegar of Modena PGI can be used raw and also put in a pan over the flame while cooking food.
Greetings from Modena.