The liver  is often considered the less noble part of the animal. But L'Originale propose you a recipe that will destroy this belief:  liver with Traditional Balsamic Vinegar, pine nuts and raisins. The bitter taste of the liver is balanced by the aromatic flavors given by Balsamic Vinegar. Raisins with their characteristic sweetness and crunchy pine nuts will make the rest! Try our recipe, you won't be disappointed!
Ingredients
500 gr of Veal liver
Red wine
60 gr of Leeks
15 Pine nuts
100 gr of Raisins
50 gr of Butter
Salt
1 pinch of Black pepper
00 flour
Traditiona Balsamic Vinegar of Modena D.O.P
Procedure
Start by pouring cold water into a bowl with raisins, letting it soak to rehydrate it for at least 30 minutes. Then start to prepare accompanying sauce: take the leeks and remove the ends, then cut  them into small pieces.
In a non-stick frying pan, melt the butter over low heat. When the butter  is completely melted, add the leek. Cook for about 10 minutes before adding the Traditional Balsamic Vinegar.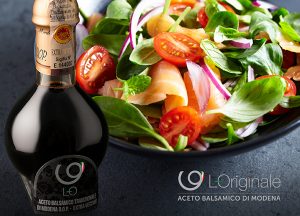 Now you can mix all the ingredients, while letting the Vinegar evaporate: this operation will take about 3 minutes. When the Vinegar is completely evaporated, transfer all the ingredients into a tall-edged container and blend with an immersion mixer ; you should obtain a smooth cream, which you will pour into the pan where you cooked the leeks.
Flour the slices of liver and put them in the pan with the sauce. Scald for 5 minutes, then turn the slices of meat and cook them on the other side for a further 5 minutes. Then blend with the red wine and let it evaporate.
Then drain the raisins and put them to the meat. Season with salt and pepper. In another pan toast pine nuts. Then add them to the liver. Finally add the sauce and your liver with Balsamic Vinegar, pine nuts and raisins is ready to be served!
L-Originale Traditional Balsamic Vinegar of Modena: www.l-originale.com