Mascarpone, fruit and Balsamic Vinegar. Mascarpone with fruit and Balsamic: a fresh, versatile and gluten-free dessert! It is a perfect choice for diverse tastes and preferences.  The fruits can be of your choice in order to satisfy every guest, from the oldest to the youngest! For example, raspberries and strawberries are perfect for the little ones, mangoes and pineapples for the exotic taste lovers, and bananas are perhaps the best option for the eldest ones (also toothless!).
So let's be creative!
Mascarpone with fruit and Balsamic: a personalized dessert that everyone will enjoy!
Mascarpone with fruit and Balsamic recipe
Ingredients for four people
To make mascarpone: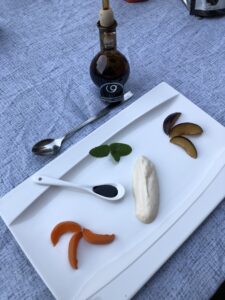 – 300 g of mascarpone
– 50 g of sugar
– 3 eggs
For the Balsamic reduction:
1 teaspoon of  of Tradizional Balsamic Vinegar of Modena DOP
To decor:
– 300 g of fruit (you can choose the one you like the most)
– 4 mint leaves
Preparation
Start by dividing the egg whites from the yolks and add the sugar and mascarpone. Mix everything until you get a soft consistency without lumps. Put the mixture to rest in the fridge. In the meantime, let's prepare the Balsamic reduction
Cook the sugar in a pan with a drop of water and add the Balsamic Vinegar of Modena PGI. Let the mixture reduce for a few minutes by leaving in on a low heat.
You will obtain a thick and creamy syrup.
You will use it at the end to decorate our dessert.
Wait until the dinner is over to cut your fruit previously washing it.  Place the mascarpone cheese on the plate and decorate as per your preference with the reduction of Balsamic Vinegar PGI and chosen fruit.
Use your creativity and the result will be unique!
We can guarantee that a picture will be taken by your guests before eating your dessert and you will be asked for more !
Mascarpone with Balsamic dessert is a simple however creative recipe.
Greetings from Modena.