The Consortium of Balsamic Vinegar of Modena PGI denomination is wrong! The correct name is: "Consortium for the Protection of Balsamic Vinegar of Modena". Protection is the word that better identified the activity done by this Institution. Total protection that includes: product production control, violence against counterfeiting and commercial promotion.
The Consortium was born in 1993 from a project of a group of manufacturers. The main objective of the group was obtaining the PGI brand name. Ministry of Agricultural, Food and Forestry Policies gave it to them in 2014. The Consortium is located at 113 Ganaceto Street, Modena. https://www.consorziobalsamico.it – [email protected]
The European Union gave The PGI (Protected Geographical Indication) denomination to the Balsamic on the third of July 2009. The goal has been achieved but is not the only objective of the Consortium. Indeed it has the duty of controlling the conformity of the product based on the rules dictated by the "Disciplinare di Produzione". The Consortium does a lot of activities in conjunction with the MIPAAF and the certifying body CSQA. It monitors and controls the correct labelling of products on the market. It also promotes various initiatives to spread its cultural heritage to create greater awareness to protect the consumer.
The Consortium of Balsamic Vinegar of Modena has monitored the Italian and foreign food market for some years. It has fought the diffusion of similar products and has promoted the unique characteristics of the Modenese Balsamic.
We take this opportunity to remind you of our article on "Balsamic Vinegar of Modena The Original" the project implemented by the Consortium in 2017.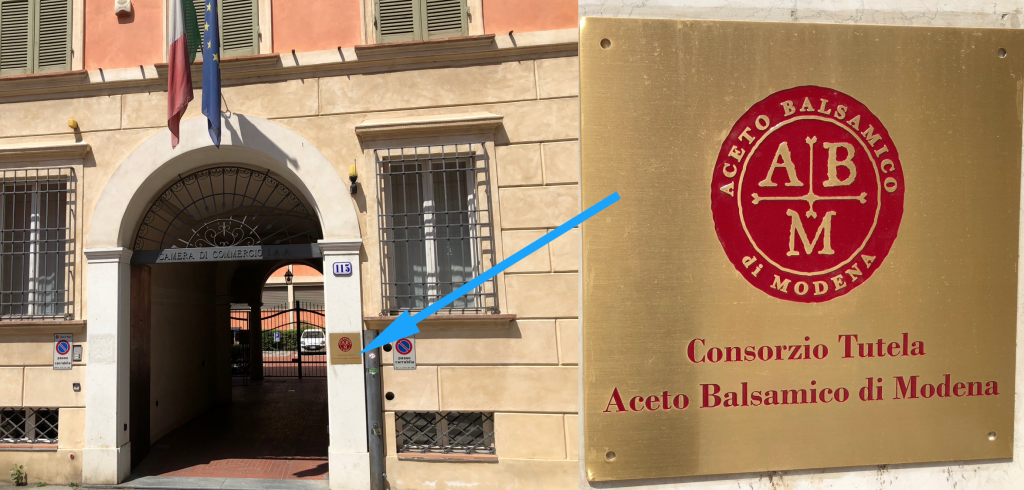 Some important data
The Consortium born from 12 manufacturers, today counts 51 Associated companies. Some of them are relevant for the product distribution in the local and whole world market and the excellent of the production.
The Consortium is the official reference organism for all the producers of Balsamic Vinegar of Modena PGI who place more than 100,000 litres of product each year on the world market. 92% of production is exported to more than 120 countries and creates a turnover of one billion euros.
Now it easy to understand the importance of all the activities done for the protection of the product, the producer and the consumer. The great results are because of the passion and dedication of Consortium members.
We remind you that the Balsamic Vinegar of Modena PGI is a special and unique final seasoning of your dishes. You can use it in a pan on the flame while cooking food. Do not leave the bottle open and store it at room temperature away from perfumes or substances with pronounced odours. Do not expose to direct sunlight.
See you soon on our Blog.
Greeting from Modena.