Often simple recipes from the tradition give us flavours that satisfy our palates. The onion Omelette and Balsamic Vinegar of Modena comes from the Modenese tradition and it is one of these recipes.
A recipe easy to prepare.
We would like to underline that the final touch is given by Balsamic Vinegar. Balsamic will give a unique and unforgettable character.
We remind you that there are on the market several products with completely different prices with the same name.
Higher quality of Balsamic Vinegar of Modena means a higher price.
For example, as regards the PGI product, made of Wine Vinegar, Cooked Must, and maximum 2% of caramel, the higher percentage of cooked must indicates higher density and quality.
Did you know that Traditional Balsamic Vinegar of Modena PDO is obtained with a single ingredient?
The ingredient is cooked must.
Did you know that Balsamic is aged from 12 to 25 years?
We invite you to read the following article to know more about the differences between the products and how to identify their characteristics.  (the best balsamic vinegar https://usebalsamicvinegar.com/the-best-balsamic-vinegar/)
Onion Omelette and Balsamic Vinegar of Modena
Ingredients for 2 people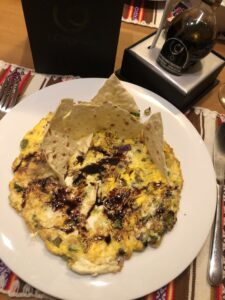 4 eggs
2 spring onions
50 gr of grated Parmigiano Reggiano
salt
1 tablespoon of Extra Virgin Olive Oil
2 spoons of Balsamic Vinegar of Modena
Preparation
After washing the onions, cut them into small thin slices and sauté them in the pan with Olive Oil. Let them brown until golden brown.
In the meantime, prepare the eggs in a separate bowl. Mix them with the Parmesan and a pinch of salt.
At this point, pour the liquid into the pan with the onion and cook for about 6 minutes per side until the omelette will have a golden colour and assume a good consistency.
Serve and pour over the Balsamic Vinegar of Modena. We use the Traditional one as lovers of this product and "purists" from Modena.
We remind you Traditional Balsamic should always be raw on food.
Anaesthetic touch to our Onion Omelette and Balsamic Vinegar is given by adding few chips of Carasau bread which will give the dish some crispness.
Let us know which Balsamic Vinegar you will use and if you like the result.
Greetings from Modena.