The recipe of today is a super light dish: songino salad with walnuts, green apples and Traditional Balsamic Vinegar of Modena P.D.O. This side dish is full of flavor and has many healthy properties! Here's how to make it!
Ingredients for 4 people
500 gr of Songino type salad
3 green apples
20 walnuts
4 tablespoons of extra virgin olive oil
salt to taste
Traditional Balsamic Vinegar of Modena P.D.O. (Check L-ORIGINALE's selection to try a high-quality one!)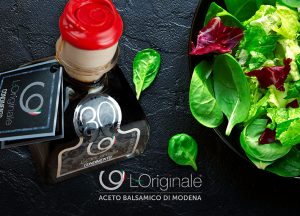 Procedure
First of all, wash the songino salad very carefully and keep it aside. After that, shell the walnuts trying not to crumble the kernels; at this point, cut them into chunks. Then, wash and clean the apples very carefully, removing the skin and the core.
At this point, dry the salad a little by dabbing it with a paper towel to remove excess water; then move the salad into a serving bowl. After that, add the apple slices and the kernels of the walnuts.
At this point, mix well, add the extra virgin oil, and salt to taste. Finally add a few drops of Traditional Balsamic Vinegar of Modena P.D.O and stir again: the salad is ready to be served! You can accompany it with couple of slices of lightly toasted bread.
Check our blog to discover many other tasty salad recipes and to be constantly updated on the world of Balsamic Vinegar!
L-Originale Balsamic Vinegar of Modena: www.l-originale.com