Summer is the hottest season of the year and easy and fresh dishes are required! Today we suggest you another super easy recipe: spelt salad with Traditional Balsamic Vinegar of Modena PDO. This tasty dish could perk up your summer kitchen, so keep on reading to discover it!
Ingredients
– 300 gr of pearled spelt
– 100 gr of pachino tomatoes
– 1 mozzarella
– 2 zucchini
– Corn
– Salt and pepper
– Fresh parsley
– Extra virgin olive oil
– Traditional Balsamic Vinegar of Modena PDO.
Procedure
Preparing a spelt salad has never been so easy! First of all, boil the pearled spelt in salted water and let it cook for about 20 minutes. Meanwhile, wash the tomatoes and cut them into small pieces; then cut the zucchini into julienne slices. Now, cut the mozzarella into small cubes.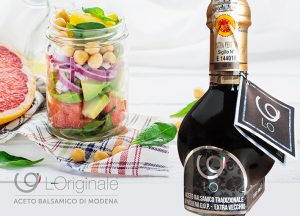 Then drain carefully the spelt and let it cool on a plate. Prepare a large bowl and pour in it the cooled spelt, the tomatoes, the mozzarella, the zucchini. Now chop finely the parsley and add it to the preparation. Season with salt, extra virgin olive oil and ground pepper.
Mix well and leave the spelt in the refrigerator for at least 30 minutes. Finally, garnish with some basil leaves to give a little perfume. Serve cold and season it with a few drops of Traditional Balsamic Vinegar of Modena DOP. To guarantee the success of the dish, we suggest you one of PDO products that you can easily get on Amazon (link below) on on our E-store. Enjoy!
L-Originale Balsamic Vinegar of Modena: www.l-originale.com