"Traditional Balsamic Vinegar of Modena DOP", the "Balsamic Vinegar of Modena IGP" and the "Condimento".
There are a great deal of varieties of vinegar on the market, but following specific criteria we can recognize the authentical
Let's see which these criteria are.
First of all, the original Traditional Balsamic Vinegar of Modena DOP is made up exclusively by cooked must produced on the territory from Modena. After a slow  fermentation and a long ageing in different wooden barrels according to the fermentation stages, the Traditional Balsamic Vinegar is controlled and certified by the authorized Italian entity, Kiwa Cermet Italia. It controls the procedure from the vineyard, through the verification of the must till to the inspection during the ageing. It can be just of two ageing, at least 12 years old or 25 years old.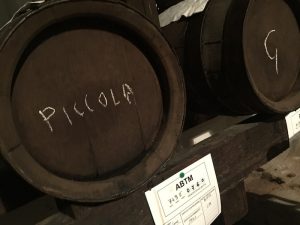 Once the vinegar is considered adequate to be called Traditional Balsamic Vinegar DOP, a specific bottle is required. As a matter of fact, this type of vinegar must be sold in a spherical-shape bottle, which has a rectangular base and made of massive white crystal glass. Its capacity is limited to 10, 20, 40 ml, even though the most common is the smallest one, in order to preserve the excellent characteristics. The last step to certify it is accomplished by a commission of experts who through a proper analytical and taste-aromatic examination, consider the original Traditional Balsamic Vinegar as DOP.
Second of all, the Balsamic Vinegar of Modena IGP is made up of cooked and concentrated must and a little quantity of wine vinegar. Its ageing period lasts at least 60 days, afterwards it can be sold. For this reason, its price is clearly inferior to the Traditional one. Indeed,  it costs around 15 euro for a good Balsamic Vinegar compared to the Traditional which starts from around 50 euro.
Third of all, the Balsamic Condimento is made up, as the Traditional one, of cooked must, but the difference lies in the ageing period, which lasts at least 4 years but it is possible to have an ageing of  50 years as well. For this reason, the price has a wide range of possibilities. Moreover another distinguish characteristic, it does not require the certification of DOP experts.
To conclude, we should always read the label and pay attention to the ingredients and don't let us seduce by low prices whenever we want to taste these delicacies!
If you're looking for the best price/quality ratio checkout our INSPIRATION LINE products on AMAZON!
Excellence at the Right Price!
L-Originale Traditional Balsamic Vinegar of Modena: www.l-originale.com