Stuffed squash is certainly  one of the tastiest autumn weekend meals. Keep on reading to discover this delicious variant filled with pear, ham and quinoa!
Ingredients
4 tablespoons of extra virgin olive oil
100 gr of Parma ham, chopped in bite size pieces
1 onion diced
2 cloves of chopped garlic
1 tablespoon of miso paste
2 inch of fresh ginger root , peeled and grated
1 teaspoon of vanilla bean paste
2 tablespoon of tamari sauce
1 pear, diced
1 cup of cooked quinoa
1/2 cup of Traditional Balsamic Vinegar of Modena
1 tablespoon of Erythritol
Salt to taste
Pepper to taste
Procedure
Let's begin by preheating the oven to 4oo degrees. Then brush the cut sides of the squash with olive oil and season with salt and pepper. At this point roast the squash on a rimmed baking sheet until tender and brown approximately for 50 minutes.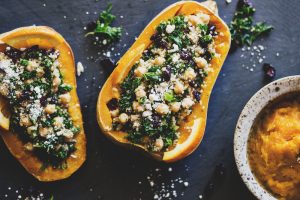 Meanwhile prepare the Balsamic Drizzle. Mix Traditional Balsamic Vinegar with Erythritol in a saucepan over medium heat, stirring constantly until Erythritol has evaporated. Then bring to a boil, reduce heat and simmer until the glaze is reduced by half and has thickened; this will take about 25 minutes.
Next, heat 1 tablespoon of extra virgin olive oil in a pan over medium heat. Add the ham and let it cook, stirring often for about 2 minutes. Then, add the onion and the garlic and let them cook from 3 up to 5 minutes. At this point, add the miso paste, the fresh ginger, the vanilla bean paste, and the tamari sauce and stir for 1 minute.
Add water if needed to thin out sauce and bring to a boil. Next, add the pear and reduce the heat to medium, continuing to stir for 5 minutes. Then, add the quinoa and reduce heat until the squash is well cooked. Finally fill the squash with the ham, pear and quinoa mixture. Add a a final touch with the balsamic drizzle and top with fresh parsley. The stuffed squash is ready to be served!