The balsamic app was created in 2015, in order to falicitate the relationship between consumers and the balsamic vinegar of Modena. The app is totally in English so even tourists can enter in contact and get to know better this amazing product.
Telling the traditional balsamic vinegar of Modena means talking about passion, patience and hard work. And that's exactly what makes the new Traditional Balsamic Vinegar of Modena app, developed by Spilerampto's Traditional Balsamic Vinegar, a cultural association that has been working for over 50 years to preserve this ancient tradition by promoting the production of balsamic vinegar original according to the PDO. This is an Apple and Android tablet app, now downloadable at $ 2.99, and a free smartphone web app.
The contents of the application are divided into five thematic sections ranging from the history of traditional balsamic to its production, from the sensory experience associated with tasting, to the places of balsamic, to socio-cultural aspects and to a useful glossary. With this application, therefore, you have the opportunity to know the ancient history of the original balsamic vinegar of Modena and discover how this special dressing is deeply rooted in the local tradition but you can also follow the production process.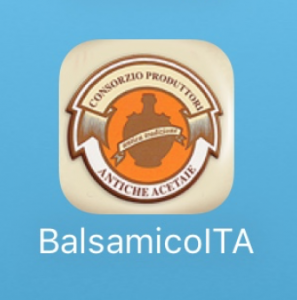 The app then accompanies the discovery of the territory of the Modena province, through the most beautiful cycling routes to visit; the journey continues then within the Spilerampetto Consortium and the Museum of Traditional Balsamic Vinegar, up to the attic of Villa Fabriani where the ancient wine cellar is located.
After two years from its publication, the balsamic app is the result of a great project, with a negative feedback: if installed on a current device it does not work properly because it has not been updated. This is a pity because the balsamic app could represent a great opportunity for the territory to bind the tourism with the product.
L-Originale Traditional Balsamic Vinegar of Modena: www.l-originale.com