Balsamic sauce with Dough with shrimps salted is the perfect recipe for these hot summer days. Indeed, it is a versatile recipe which can be served for apetizer or as second course.
The shrimps matches perfectly with the bitter-sweet taste of the balsamic vinegar. Curious to know more about this recipe? Keep on reading!
Ingredients:
Classic dough, Shrimps 600 g, original Balsamic Vinegar of Modena15 g, Pink Pepper 1,  Extra Virgin Olive Oil q.b., Fine salt q.b.
To make the Balsamic sauce with Dough with shrimps salted,  you need to start with the cleaning of the shrimps: firstly wash the shrimps under cold running water, remove the head and extract the intestine helping you with kitchen tweezers . Cut the side carpace sides with the scissors and take the inside, this way you can hold the whole flesh. Make an engraving on the back of the shrimp and in the meantime place a frying pan on the fire with a bunch of oil, combine the clean shrimps, add the pink pepper and fry them for 5 minutes.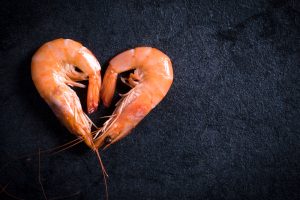 After this time add the origina Balsamic Vinegar and salt it. Cook for 10 minutes in a lively boil so that the sauce gets thicker. At this point the shrimps are ready, cut in half and start composing the appetizers: take a sfoglia over half a goat , seasoned with a few drops of Balsamic Vinegar original and pink peppercorns . Your dough with shrimps salted with balsamic vinegar is now ready to be brought to the table!
Remember that you can substitute the shrimps with other kinds of shellfishes and in order to better preserve the quality of this plate, it is preferable to keep them in the fridge for at most one day.
Did you like the Balsamic sauce with Dough with shrimps salted recipe? If you want to learn how to employ the best original Balsamic Vinegar of Modena, see also other recipes on this blog.
L-Originale Traditional Balsamic Vinegar of Modena: www.l-originale.com