Today's salad is a recipe with a strong but fresh taste: Mediterranean salad with tomatoes, Tropea onions and Balsamic Vinegar of Modena. This healthy dish contains just a few raw ingredients! It is a side dish that can become a main dish or a tasty appetizer according to the occasion. Keep on reading to discover its ingredients!
Ingredients
500 g of mixed tomatoes (you can use your favorite ones and even mix them)
one Tropea onion
150 g of feta,
4 black olives
2 tablespoons of extra virgin olive oil,
2 tablespoons of Traditional Balsamic Vinegar P.D.O.
a few sprigs of thyme
salt and pepper to taste
Procedure:

Let's start by washing and drying the tomatoes. Then cut them into wedges, slices or half according to the type of tomatoes which you choose. Once cut, transfer all the tomatoes in a large bowl.

Peel the onion and cut it into thin slices. Then add it to the tomatoes. At this point crumble the feta with your hands directly over the tomatoes and the onion. Then add the thyme and salt and pepper to taste.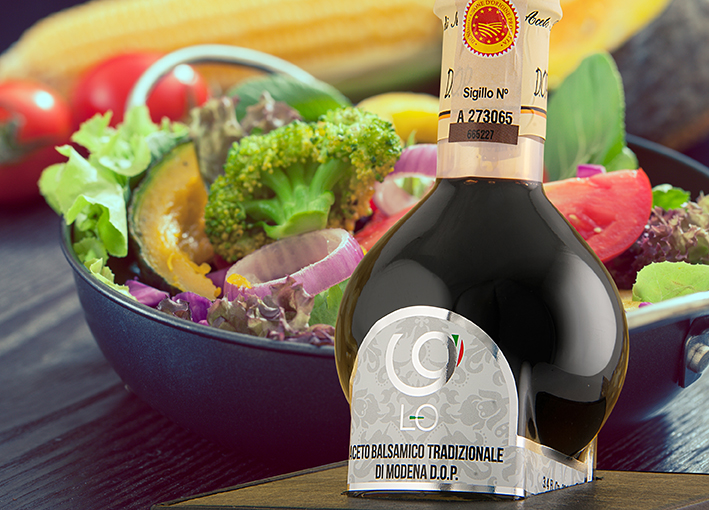 Finally season the mediterranean salad with extra virgin olive oil and Traditional Balsamic Vinegar of Modena P.D.O, a product which must be always used raw! Then transfer the preparation to individual dishes and serve.
One extra idea…
If the taste of the onion is too strong for your taste, you can soften it by soaking the onion slices in water and vinegar for about 20 minutes. Drain and dab the slices with absorbent kitchen paper before adding them to the other ingredients.
Check our Blog for many other fresh salad recipes!