Today we propose you a delicious fish-based dish: Octopus with potatoes and Balsamic Glaze! Potatoes are an extremely versatile side dish: boiled in a salad, mashed or baked, you can choose your favorite preparation. The Balsamic Vinaigrette will make the rest of the work!
Ingredients for 8 people:
1,5 kg of Octopus
White vinegar to taste
Parsley to taste
50 gr of Celery
250 gr of Black olives
Extra virgin olive oil to taste
Traditional Balsamic Vinegar of Modena to taste
1 pack Valerian
1,5 kg of Potatoes
1 bunch of Chive
Fish stock to taste
White pepper to taste
Salt to taste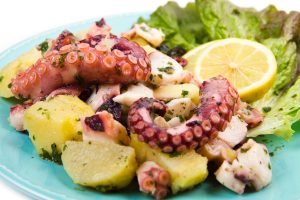 Procedure
Let's start by washing the octopus in boiling water acidulated with celery and parsley. Then boil the potatoes and the pass them in the potato masher; after that add the extra virgin olive oil, a little of stock of fish and the chopped chives.  At this point, clean the olives, slice them, add olive oil and and mix all the igredients with the help of a mixer.
Then prepare a Balsamic vinaigrette and clean the valerian. At this point, compose the preparation directly on the  dish with the help of a dough cutter. Place the the different preparations in the following order: at firts the potatoes, then the octopus cut and seasoned with salt and pepper, and finally the valerian. Garnish the dish with the olive cream and the balsamic vinegar vinaigrette. Youcan finally enjoy the dish!
L-Originale Balsamic Vinegar of Modena: www.l-originale.com