The balsamic vinaigrette recipe  is the best seasoning for the summer period. Indeed, I find this to be a useful way to dress salads but I suggest not to exaggerate with oil, which even if it is good (the extra virgin oil) if you are following a low calories diet, it is better to keep in check the quantities.
Preparing the homemade vinaigrette will allow us to quantify the various ingredients and have a sauce ready to season your dishes; in fact, in addition to the salad I like to put a splash here and there on the vegetables such as green beans and zucchini, for example, or even on a simple beef steak or bresaola slices, foods that even if cooked without any seasoning acquiring the right flavor with the vinaigrette. Let's find out how to make the balsamic vinaigrette!
The proportions are as follows:
2/3 of extra virgin olive oil, 1/3 vinegar, Salt according to the quantities (here half a teaspoon of spoon)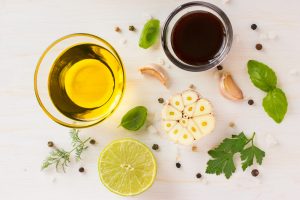 Of course, depending on your taste you can add more spices or vary in proportions (I prefer 1/3 oil and 2/3 vinegar).
If you use a bottle you can put all the ingredients in it and then bust vigorously for a few seconds, you've got seasoning for several days. If you want to make a seasoning to use immediately in a bowl with a fork salt and vinegar and then always mixing adding the oil. Continue to mix until the result is homogeneous. Your seasoning is ready!
This seasoing allows us to prepare easy recipes, but it also permits to add that touch that makes the difference in every plate. Indeed, the balsamic vinaigrette recipe is versatile and can be matched with every plate, such us fish, meat, salads, strawbarries and even ice cream.
Did you know that the balsamic vinegar is perfect for diets? You can have some info here. 
L-Originale Traditional Balsamic Vinegar of Modena: www.l-originale.com