Mariangela Grosoli is the new president of the Consortium of the protection of the  balsamic vinegar of Modena. The election took place unanimously among the members of the renewed Board of Directors following the resignation of former President Stefano Berni.
Grosoli is the owner, with her family, of the Acetaia Del Duca, production company of original Balsamic Vinegar of Modena IGP and DOP with headquarters in Spilamberto, strongly rooted in the territory but with the aim to reach a global market.
The main focus of her assignment is the completion of the projects initiated during the previous management and also the continuation with the firm hand of the activities of protection, valorisation and promotion of the product whose grain has been well-traced by my predecessor Berni.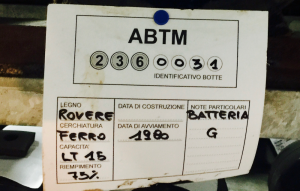 What Mariangela Grosoli considers extremely important at an historic time as the current one, characterized by an increasingly intense market control activity to prevent and repress when it comes to fraud and counterfeiting, is the ability to put aside individualism and make a team to achieve a common goal, gaining the awareness that Modena cannot afford to disperse the heritage built by their fathers and those modenese entrepreneurs who have preceded us. She hopes that her mandate follows the footsteps of the origins, that is, to create but also to enhance and advance the denomination in accordance with tradition and with an attentive look to the new demands of the markets.
With the new president, the board structure is also being modified, which is confirmed by Giovanni Carandini (Acetificio Carandini Emilio), Sabrina Federzoni (Monari Federzoni), Angelo Giacobazzi (Fattorie Giacobazzi), Cesare Mazzetti (Acetum), Giacomo Ponti (Modenaceti) and Enrico Zini (Compagnia del Montale) introduces two new names such as Francesco Toschi (Acetaia Borgo Castello) and Valery Brabant (Antichi Colli).
We hope she will fulfill her assignment and we wish her a great new career!
L-Originale Traditional Balsamic Vinegar of Modena: www.l-originale.com