Balsamic Vinegar PGI pesticides, a new that you don't want to read and that doesn't help the Modena Balsamic market.
A recent survey, carried out by the Swiss magazine Ktipp, have compared fourteen PGI branded products sold in supermarkets or discount stores. The chemical examination's results are incredible.
Balsamic Vinegar PGI pesticides
Researchers haven't found any traces of added sugars, adulterants and above all ochratoxin or methylimidazole. Those are problematic sugdxnhbstances previously identified in some products in the analyzes carried out in 2015.
The product quality has improved, but the analysis has also highlighted the presence of pesticides in the Balsamic Vinegar of Modena PGI.
Before the recent analysis, in 2015, researchers found Iprodione (an element that protects grapes from mould and parasites).
The problem is that Iprodione can also cause cancer. From 2108 the element is banned.
The results are not good because they have found the presence of pesticides in a lot of products.
The analysis has also highlighted that high price and quality do not always mean that the product is excellent. For example, the Globus Delicatezza Balsamic Vinegar PGI contained a mix of nine different pesticides.
Unfortunately, expensive bottles of vinegar and well-known brands such as Mazzetti L'Originale and Giuseppe Giusti also contained three different pesticides in minimal quantities.
We have got good news regarding the following products in which they didn't find any trace of pesticides:
Ponti Balsamic Vinegar, Antica Modena Balsamic Vinegar, Despar Balsamic Vinegar, Garibaldi Balsamic Vinegar, Lidl Acetino, BIO Migros Balsamic Vinegar and Bio Naturaplan Coop Vinegar.
These are the test results: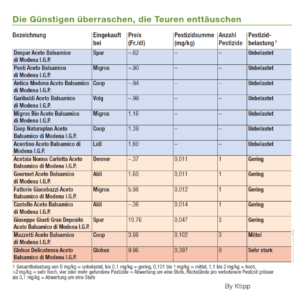 Production Regulations of Balsamic Vinegar
We remind you that the Production Regulations of Balsamic Vinegar of Modena PGI born in 2009 provides that:
"Balsamic Vinegar of Modena PGI is the product obtained (with particular and traditional technology) from grape musts. Musts are from grapes from the following vines: Lambruschi, Sangiovese, Trebbiani, Albana, Ancellotta, Fortana, Montuni, partially fermented and/or cooked and/or concentrated, with the addition of an aliquot of vinegar aged at least 10 years, to give the product its typical organoleptic characteristics, and with the addition of vinegar obtained by acetification of wine only to the extent by at least 10%. "
"The steps that must necessarily take place in the geographical area of ​​origin are the assembly of raw materials, processing, refining and/or ageing in wooden containers."
(Grapes can have any geographical origin).
"The percentage of cooked and/or concentrated grape must have not to be less than 20% of the mass to be processed."
Did you know that the Production Regulations of Traditional Balsamic Vinegar of Modena PDO allow the use of grapes coming exclusively from the Province of Modena?
Discover the differences between the two products PGI and PDO in the following article:
https://usebalsamicvinegar.com/the-best-balsamic-vinegar/
Balsamic Vinegar PGI pesticides information source:
https://www.ktipp.ch/artikel/artikeldetail/pestizide-in-jedem-zweiten-balsamico-1/
Greetings from Modena.