Negroni with Balsamic Vinegar. We have talked about recipes that include Balsamic with salads, meat or ice-cream. What do you think about a Saturday night cocktail with Balsamic? It is not a joke. Today we are sharing with you this easy recipe.
Negroni with Balsamic Vinegar
Do you think that the drinks are always the same?
Are you tired of ordering the same drinks every time?
If you have got a bar maybe you don't have ideas about new drinks to offer to your costumers.
Well, we have got what you need: use Balsamic Vinegar as an ingredient for your drinks.
Balsamic Vinegar is innovative, fresh and particular with a unique organoleptic characteristic.
Let's try to imagine it no longer just as a condiment for your vegetables or fish but also as a special ingredient for your Saturday night cocktail.
Balsamic Vinegar (especially the high quality one ABTM PDO) is a product that is food excellence all over the world.
If you mix it, in the right quantities with other ingredients, it can create a harmonious combination. The sweet and bitter taste is perfect at the end of a meal.
Balsamic Vinegar, since ancient times, was considered a perfect digestive to be taken at the end of meals.
What better ingredient for our drinks?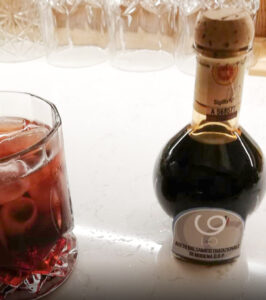 Negroni with Balsamic Vinegar recipe
For the preparation, pour the following three ingredients in a proportion of 1/3:
At this point, add 1,5 cl of Traditional Balsamic Vinegar of Modena PDO.
Mix everything and add some ice.
You can use some orange zest or slices to watch your cocktail and "health".
Negroni with Balsamic is ready!
If you want to know more about other cocktail's recipes with the famous Black Gold from Modena, you can find here how to prepare the American Bridge Cocktail with Balsamic. https://usebalsamicvinegar.com/american-bridge-cocktail-with-bv/
Greetings from Modena.