Cooked Must's Fair – Fiera del "Mast Còt" comes back on the 30th of September and on the first October in Spilamberto, near Modena. The show promoted by the Museum of Traditional Balsamic Vinegar with the Comune, the Consortium of Traditional Balsamic Vinegar and Messer Filippo's Shops. As always, the central part of the event will be the rite of boiling of the must in the quaint "paioli" governed by a slow fire by the masters of the communities joining Consorteria.
Visitors of Cooked Must's Fair – Fiera del "Mast Còt", will be able to observe closely the birth of the traditional balsamic vinegar and take part in the guided tasting sessions of Balsamico held by the masters of Consorteria at the Museum of Traditional Balsamic Vinegar. Next to the boiling of the must, as always will be the show of barrel producers and on Sunday will be the seventh edition of the market dedicated to the sale of certified must. All for the first time, within the splendid setting of the renovated Piazzale Rangoni.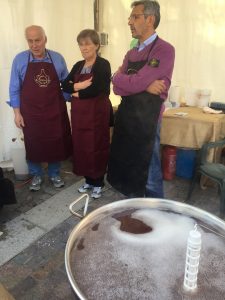 To anticipate Cooked Must's Fair – Fiera del "Mast Còt" Còt"there is the Alpine Twinning Festival, which this year came to the eleventh edition. Today, Spilamberto hosts the Alpini Group in Peschiera del Garda (Verona). A usual parade for the streets of the country with the participation of the Band Corps "G. Green "by Spilamberto. On the other hand, on Monday, October 2, the 20th edition of the award "Lamberto d'Oro 2016". Today, and for the duration of the event, the Street Füd Festival Mast Còt Edition returns: after last year's success, 15 colorful trucks will thrill Piazza Caduti per la Libertà with Italian and foreign specialties enriched by Traditional Balsamic Vinegar. To cheer the smallest circus shows, baby dance, children's makeup and street artists, and every evening with 21 live music with cover bands. Great closure on Sunday 1 October to 22 when the Torrione will light up with fires and colors thanks to a scenic piromusic show.
L-Originale Traditional Balsamic Vinegar of Modena: www.l-originale.com