Today we suggest you a recipe that will delight your palate: Tatin of figs caramelized with Original Balsamic Vinegar, a fancy and tasty dessert that will please all your guests!
Ingredients
Procedure
Prepare directly in the mold the caramel, using sugar and a little but of water; as soon as it has taken an amber color, add the lemon juice to prevent it from hardening. Then dice the butter and add it. Finally add the Balsamic Vinegar glaze.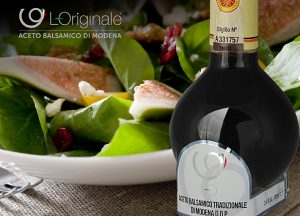 Now you have to mix vigorously. If you do not have a  mold, you can make the caramel in a non-stick pan and pour it on the bottom of a baking pan.
After having mixed all the ingredients, cut the figs into quarters and place them on the caramel until covering the bottom of the cake tin; then lay the circle of puff pastry and roll it inwards.
Bake at 180 ° until the dough is golden brown and let cool before unmolding; obviously you'll have to reverse the tatin on the plate, so that the fruit will appear on the surface. Serve straight away!
L-Originale Traditional Balsamic Vinegar of Modena: www.l-originale.com