The Consortium for the Protection of Balsamic Vinegar of Modena PGI participated to the Summer Fancy Food Show in New York, as part of the project "Balsamic Vinegar of Modena, The Original". The project was co-funded by the European Union and addressed to American consumers.
The institutional stand of the Consortium in the Summer Fancy Food Show in New York, was the 2905, at the 3rd Level; on the same floor you could find almost all of the Italian representatives. However, this wasn't the only event that involved the condiment: in fact, on June 30th, the Consortium participated to the "100X100 Italian Gala", an exclusive event organized by "I love Italian Food" in collaboration with the Italian Chef Association of New York. During the evening, some restaurants received the prestigious "100X100 Italian Award"; this prize rewarded their contribution to the image and prestige of high quality Italian food in New York.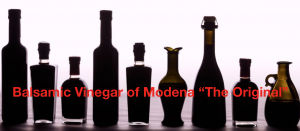 The project "Balsamic Vinegar of Modena, The Original", is a promotional campaign lasting three years (2017-2020), which the Consortium has designed with the main objective of improving the knowledge of the product among consumers in California, Florida and New York City. Moreover, another objective is that of involving young chefs thanks to the collaboration with the Culinary Institute of America (CIA) and the International Culinary Center (ICC).
In this context it is particularly meaningful to develop relationships with some important American influencers; furthermore it is important to use the most modern communication technologies and to organize seminars and study trips to Modena. In fact, seven of them have already had occasion to visit Modena, to discover the so called Oro Nero and its history. Moreover, they could deepen its production process and control system, and discover why Balsamic Vinegar represents a unique reality.
Foto: Riconoscimento editoriale:  / Shutterstock.com
L-Originale Balsamic Vinegar of Modena: www.l-originale.com