If we say nuggets, you immediately think about McDonald… And this is absolutely wrong! This recipe is the perfect balance between the easiness of fast food, and the flavour of gourmet. We are also sure that everybody will be satisfied, even the pickiest child. So try our chicken mozzarella filled nuggets with Balsamic Vinegar of Modena mayo
Enjoy the recipe!
Ingredients for 20 nuggets:
chicken breast 250 g., breadcrumbs 1 spoon, Parmigiano reggiano 1 spoon, mozzarella 100 g., EVO oil 30 ml., salt and pepper to tast, flour+breadcrumbs+flour for the breading.
for the Balsamic Vinegar mayo: 2 yolks, EVO oil 200 ml., original Balsamic Vinegar of Modena 20 ml., salt to taste.
Preparation:
Let's start by preparing the balsamic vinegar mayo. Break the yolks with a eggbeater and drizzle slowly the balsamic vinegar. Add the EVO oil. Beat until the mayo thickens and then put it in the fridge.
For the nuggets is necessary  a food processor with strong blades because the meat must be blended. Chop the chicken in tiny pieces and put them in your mixer. Pulse until you get a  coarse paste.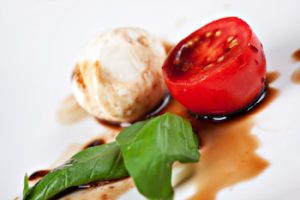 Pour the paste into a bigger bowl and add the Parmigiano Reggiano and the breadcrumbs and whisk. Take 2 small portions of the meat, flatten the both and put a piece of mozzarella between the two.
Then warm up some oil and fry your nuggets until they become really golden and crispy.
Serve them with our special Balsamic vinegar of Modena mayo and… and… EAT!
Again, we are sure that this recipe will be the best for your children and also for your inner child. Everybody loves nuggets. Especially the ones with a cheesy filling. Feel the taste. Eat our chicken mozzarella filled nuggets with Balsamic Vinegar of Modena mayo.
L-Originale Balsamic Vinegar of Modena: www.l-originale.com