Balsamic Vinegar of Modena and McDonald's renewed their collaboration: the product will be included in the new menus of the My Selection line, designed and created by the Italian entrepreneur Joe Bastianich.
The partnership between the ABM Consortium and the American fast food giant took off in January. Its renewal confirms the commitment of both sides to offer the high quality of a certified product such as Balsamic Vinegar combined with the principle of fast food.
Qualivita Foundation will continue to support the Consortium in this partnership. The association will continue to help fast food chain in enhancing the characteristics of each P.D.O. and P.G.I.  product used in their menus. And it is right next to Qualivita that the ABM Consortium took part in the official presentation of the new 2019 menus of the My Selection line. The event took place on November 26th in the first McDonald's opened in Italy in 1986.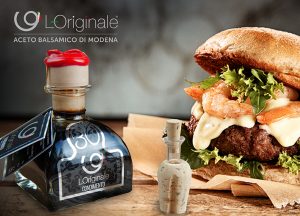 Many important guests took part in the event: the CEO of McDonald's in Italy Mario Federico, the entrepreneur Joe Bastianich, and also the Consortia of the products chosen for the new McDonald's campaign. Among them, the director of the Consortium for the Protection of Traditional Balsamic Vinegar PDO Federico Desimoni, who stated: «The attention that McDonald's has shown towards Italian P.D.O. and P.G.I. adds value in terms of quality  to McDonald's sandwitches. Furthermore, it opens an alternative communication channel to the traditional ones, to spread the knowledge of the product. The precious condiment is one of the ingredients that Bastianich used for the premium sandwiches of the My Selection line. Original Balsamic Vinegar represents one of the reference products, certainly because it is the most exported Italian product in the world, being 90% of the production sold abroad.»
L-Originale Balsamic Vinegar of Modena: www.l-originale.com