Today we propose you the recipe of an appetizer able to delight the finest palate: prawns with strawberries and Balsamic Vinegar, a light and tasty starter which is ideal for a romantic dinner with your significant other or for any other special occasion. Although it may seem an elegant and sophisticated dish, it will take you only ten minutes!
Ingredients
6 or 8 big prawns
100 gr of fresh strawberries
Original Balsamic Vinegar of Modena (aged at least 12 years)
Choose the ingredients carefully since their freshness and quality are fundamental for the success of the recipe! Try to select only fresh Scampi; furthermore the strawberries must be regular and well ripened.
Procedure
The procedure is very easy and will take you only a few minutes!
First of all clean carefully all the prawns and put them in a steamer. Then wash the strawberries and slice them into small pieces, leaving a green tuft to witness the freshness of the fruit. When the prawns are cooked decorate them with the sliced strawberries and finally add a few drops of Original Balsamic Vinegar of Modena; we suggest you to use an Extra Vecchio, since it is perfect to enhance the flavor of the prawns.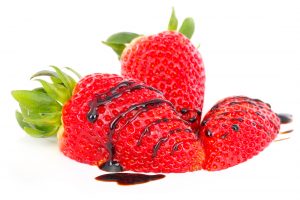 Tips
Use only real Balsamic Vinegar of Modena! Do not use a low quality store-bought Balsamic Vinegar, it will completely ruin the dish!
If you prepare this dish for a formal lunch, it will be advisable to peel the prawns, detaching and cleaning the tails and then reassembling them with the heads. In this case you will have to warm them up before assembling and serving them. If you prepare the prawns for a rather informal meal you could also avoid this procedure: they will remain warm and fragrant! In both cases you will serve a delicious appetizer to your guests.
The historic marriage between strawberries and balsamic vinegar has been enriched by adding shrimp.
L-Originale  Traditional Balsamic Vinegar of Modena: www.l-originale.com