Risotto with asparagus goat cheese and original Balsamic Vinegar of Modena is perfect for this new autumn season. Indeed, it contains all the ingredients that are part of this time of the year, such as the asparagus. The Balsamic Vinegar of Modena adds that unique touch to your plate that will make your guests falling in love with it. Curious to know how to do it? Keep on reading!
Ingredients:
For asparagus risotto: 160 g of Carnaroli rice, 6 green asparagus, 3 white asparagus, 50 g tomato paste: pomegranate, cut and cut tomatoes and then reduced to cubes, 300 ml vegetable broth, 60 g of butter, 3 tablespoons of Parmesan cheese, Shallow.
For goat's cheese risotto: 160 g of Carnaroli rice, 60 g goat cheese, 300 ml vegetable broth, 40 g of butter, Shallow
To decorate: 2 green asparagus, 4 white asparagus, Balsamic Vinegar of Modena original
Preparation:
For asparagus risotto, brown in a saucepan the chopped shallot with 30 g of butter and asparagus washed and cut into lozenges. Combine the rice and when it will be roasted wet with the broth and bake. Remove from the fire and stuff with the remaining butter, grated Parmesan cheese and tomato paste. For cheese risotto, brown the shallard with 20 g of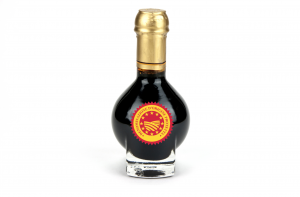 butter; combine rice, toast, bathe with broth and bake. Mantequate with the remaining butter and goat cheese. Place the two risers in semicircle and move the plate by swirling in order to meet. Decorate with asparagus and garnish with a few drops of Traditional Balsamic Vinegar of Modena.
Risotto with asparagus goat cheese and original Balsamic Vinegar of Modena is ready to be served! Let us know if you like this recipe, leave a comment or follow us to our Facebook and Instagram pages:
L-Originale Traditional Balsamic Vinegar of Modena: www.l-originale.com